Mob overwhelms store in Indianapolis
Breaking with
the usual media practice of covering each instance of black mayhem as a discrete, local event unto itself that has nothing to do with any larger pattern, Fox News yesterday treated the sneaker riots as the national phenomenon that they are, though not, of course, as a racial phenomenon.
Mediaite
, not known as a liberal website,
posted the Fox video
, under the headline, "Astounding Footage Of Indianapolis Air Jordan Stampede," with this introduction:
Air Jordan fever has swept the nation, as frenzied shoppers pushed their way into their local malls to get their hands on re-issued Nike Concords. We reported on Air Jordan arrests in Atlanta earlier, but perhaps the most insane footage of today's sneaker assault comes from Indianapolis, where doors were snapped off and a full-blown stampede broke out with people actually being trampled on the way into the store.
Between 1:17 and 1:28 in the Fox News segment, there is the most astonishing footage of the crowd bursting into the shoe store. Here is a still that I took from it, but you have to see the video itself: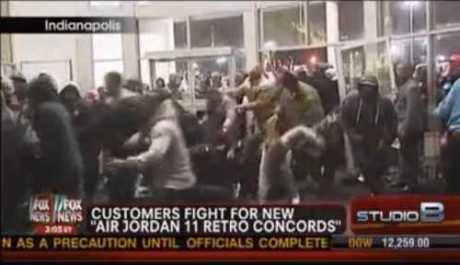 Posted by Lawrence Auster at December 24, 2011 10:13 AM | Send