Cain's accuser
Jonah O.
writes:
At one point, I recall taking issue with your critical observations about of peoples' appearance, and argued that it was not as revealing as you thought.

In light of this photo of Herman Cain's accuser, published on the front page of Salon.com today … forgive me. I knew not.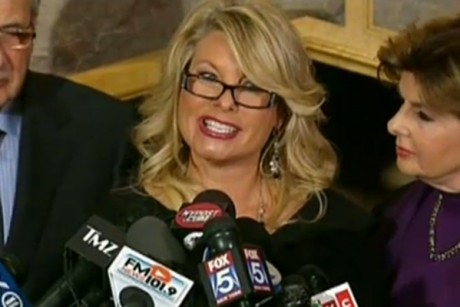 Sharon Bialek
LA replies:
Thanks. She certainly looks distracted and untogether in the photo, but besides that, what does the photo express to you?
Jonah O. replies:
To me, she appears demented and crazed in an unhappy manner. She is contorted and distorted.
LA replies (8:30 p.m.):
If you see the video of Bialek's press conference, while she has way too much hair, her behavior and demeanor are normal. That one photograph is misleading.

- end of initial entry -

Laura Wood writes:
With her tousled hair slipping over her eyes, the long dangling earrings and heavy make-up, Ms. Bialek makes it all too easy to imagine how years before, after heading out for drinks and dinner alone with a man who had just told her he had upgraded her hotel room to a suite, she might have seriously aroused him. She was a grown woman who went out on a date, not a business meeting, who seems to have been willing to overlook the obvious signs that it was a date in her eagerness to get a job. She was not hurt in any way and there is no evidence that he engaged in retribution.

Posted by Lawrence Auster at November 07, 2011 05:40 PM | Send