A city full of willing white prey, but he showed his hand too quickly, so they fended him off, which enraged him
James P.
writes:
In this New York Post story about the trial of Hueges Akassy, one of the victims says:

"I could not understand where so much hate came from," Paola D'Agostino said of accused rampaging Romeo Hugues Akassy, on trial on charges of raping one date, forcibly sodomizing another, and allegedly stalking two additional women who'd turned him down.

As always, white liberals, particularly white liberal women, are incapable of grasping black rage and hate, and this woman cannot understand the rage of a black man who got his hands on her (or hoped to do so) only to have this Ultimate Prize taken away from him.
Below is the article, from Monday, October 24. The
Post
has been covering the trial of the Upper West Side rapist all week.
Here
are Google results for other articles about it.
Metropolitan Museum gallery gal tells of close brush with accused date rape fiend
By LAURA ITALIANO
October 24, 2011


Hueges Akassy in court (dig that cravat,
and dig the classic narcissist physiognomy)

A historian at the Metropolitan Museum of Art told a Manhattan jury about her scary brush with a crazed accused date rapist today, describing her fear when he kept showing up at her job to lean against the columns and stare at her once she broke it off with him.

"I could not understand where so much hate came from," senior Paola D'Agostino said of accused rampaging Romeo Hugues Akassy, on trial on charges of raping one date, forcibly sodomizing another, and allegedly stalking two additional women who'd turned him down.

Akassy claimed he was a jet-setting international journalist—though he was actually sleeping on rooftops—and had seemed charming and intelligent when he first approached her on the street at West 80th and Columbus Ave. in June, 2009, testified D'Agostino, a native of Naples who works with the museum's permanent collection of Italian art.

But when she rejected his "aggressive" kisses on their first date, picnicking in Central Park, he "freaked out," calling her an ill mannered racist, she told jurors. When she reluctantly agreed to a second date—at Riverside Park—he groped her, then threw a screaming fit when she wouldn't let him up to her apartment.

"You are the most shallow, pathetic, retarded idiot woman I have ever met," he texted her as he banged on her apartment door, all the while shouting "bitch!"

On cross examination, defense lawyer Glenn Hardy pointed out that D'Agostino agreed to one more wine bar sit down, one more evening stroll, despite his unwanted advances.

"I couldn't understand why somebody like him would act that way," she explained in her Italian accent. "I felt very naive. I thought I could give another chance to a person to explain himself."

Akassy—who pretended to work for an international satellite TV news operation, covering presidential primaries and jetting each week between New York and Washington—faces up to 25 years prison on the rape charge.

[end of NY Post article]
Here is a photo of Paola D'Agostino, from the
blog
of the Society of Architectural Historians (thanks to Jim C.):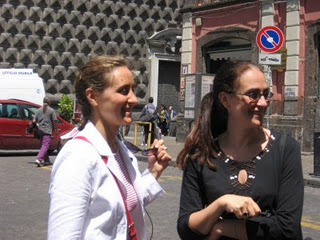 Bianca de Divitiis (right) discussed the Renaissance,
while Paola D'Agostino (left) covered the Baroque.
Here is a NY
Times
article
from August which focuses on one of the charges against Akassy—not a violent incident, but harassment. Yet it gives a further idea of his modus operandi.
August 9, 2010

In a Flurry of Calls to Prosecutors About a Rape Suspect, a Pattern Emerges
By JOHN ELIGON

The request from prosecutors in Manhattan seemed routine: Anyone with information about Hugues-Denver Akassy, who was arrested two weeks ago on charges that he raped a Russian tourist in Riverside Park, was asked to come forward.

But the pattern of behavior described by about 10 women—including a prosecutor and a newspaper dating columnist—who responded was anything but routine.

In the women's accounts to prosecutors, a consistent narrative emerged: Mr. Akassy, 42, often would approach women in places like art museums and high-end shopping areas, according to the authorities. He would praise them for their beauty, and describe his credentials as the host of an international affairs television program that landed interviews with world leaders like Bill Clinton and Nelson Mandela. Much of what appears on the Web site for the program has been discredited by representatives for the people he said he had interviewed.

What has been documented was Mr. Akassy's history of contact with the courts, both civil and criminal. He was arrested at least three times in Washington since the mid-1990s—the charges were dropped all three times, according to a spokeswoman for Superior Court there—and was taken to court three more times on tenant-landlord disputes. In Manhattan, in addition to the rape charge, he has three cases pending.

People have described him as sophisticated and charming, yet also homeless and terrifying.

A grand jury is expected to decide on Tuesday whether to indict Mr. Akassy on rape charges in connection with the accusations of the Russian tourist. Mr. Akassy testified for about an hour and a half before the grand jury on Monday morning and was expected to finish Tuesday.

In the case of the tourist, Mr. Akassy said the two had consensual sex, according to his lawyer, Howard D. Simmons. In meeting with Mr. Akassy, who is from Ivory Coast, Mr. Simmons said he found him to be an intelligent, "very well-spoken, very well-groomed, good-looking person."

"What I derived from his personality, I can't see him being this violent or raping any person," he said.

But since the Manhattan district attorney's office put out the notice requesting information about Mr. Akassy, about 10 women have come forward, according to a person familiar with the investigation who requested anonymity because the inquiry was continuing.

Long before Mr. Akassy's arrest on rape charges, a 25-year-old associate at a Manhattan law firm said, Mr. Akassy tried to woo her by flattery and talking about his journalistic credentials.

The first time he approached her, she said in an interview, was as she was entering the Lincoln Square movie theater in February 2009 to see a movie with her boyfriend. He asked her if she was European, she said. The woman, who asked that her name be withheld, said she told Mr. Akassy she was in a hurry and went on her way.

About a month later, however, Mr. Akassy showed up at her Upper West Side apartment building as she was walking in, she said.

"Do you remember me?" she recalled him asking, before he talked about his show, his Web site and how he had been watching her. She said she gave him her e-mail address to get him to leave.

In an e-mail message, Mr. Akassy told her she was "interesting and attractive," according to a copy of the e-mail provided by the woman. He wrote that he came to New York "from Paris via Washington" to introduce his weekly television show. He asked her to meet for coffee.

"Just two companions who enjoy each other company to explore the beauties of life," he wrote.

The woman said she forwarded the e-mail to her boyfriend, who wrote to Mr. Akassy and asked him not to contact her anymore.

The next day, Mr. Akassy followed her down the street and yelled expletives at her, she said.

"So how typical of you as an American girl: I'm being nice to you and you're acting rude in return, right!?" he wrote in an e-mail message.

She went to the police, she said, and a detective took a report. The detective told her not to worry because Mr. Akassy's Web site, orbitetv.org, indicated that he was a public figure and therefore he was unlikely to "do anything stupid."

Mr. Akassy was arrested and charged with harassment in connection with his interactions with the 25-year-old associate. That case is still pending.

Two days before Mr. Akassy was arrested on the rape charge, police arrested him on suspicion of trespassing after he was found peeking into a woman's Upper West Side apartment from the fire escape. Mr. Akassy told the police that he was homeless and slept on the roof, court records show.

Mr. Akassy has another open trespassing case. He was arrested in January on charges of twice entering a New York Sports Club even though he had been banned from the premises, according to a criminal complaint.

The dating columnist, Mandy Stadtmiller, wrote in a recent piece for The New York Post that Mr. Akassy tried to force his hands down her dress and tried to get her to touch his genitals while they were on a date in 2007. "It makes me shudder to think of this, at first glance, friendly, boisterous man I met at the Apple store by chance," she wrote.
Comments

October 29
Gilda A. writes:
This isn't just race. Forty years after the Women's Liberation movement, young women apparently are still being raised to be "nice." Men take advantage of this, even after polite rejection.

Just last week, a female friend and I were in discussion on the street, before going our separate ways home, when a white man came up to interrupt us. (We are both in our sixties, and faded-looking. When I was young and attractive, I looked forward to aging as putting an end to unwanted attention, but have found only that the quality of the men goes down.) When I put him off, he grew enraged about my "rudeness" to the point of near violence, calling me "an ugly old bitch" who should "s*ck my c*ck" (accompanied by a gesture).

These young women need to learn urgently that one close escape is enough.
LA replies:
I did not say the the phenomenon of men harassing women is just about race. Hueges Akassy, a black man from Africa, had somehow gotten into the United States and spent his time hunting white women, particularly white women he would find in the more refined areas of society such as art museums. And when they spurned him after initial friendliness because he came on too quickly, he used the "you are being racist" card to get them to go along with him.


Posted by Lawrence Auster at October 28, 2011 10:14 PM | Send