Ron Paul's fake eyebrows
It wasn't
long exposure to hot lights or some other uncontrolled factor that made Rep. Paul's eyebrows start to slip, revealing his lighter, real eyebrows under his fake dark ones. By
10:44 in the debate
, the right eyebrow had already slipped. So the artificial eyebrows were evidently attached to his face by almost nothing. And what a bizarre sight it was: a make-up malfunction we might expect to see in a vaudeville routine or a Jerry Lewis movie happening instead to a septuagenarian congressman in the middle of a presidential debate on national TV. On top of all the other negative things one could say about this querulous anti-American ideologue, he made himself a buffoon.
UPDATE, 5:45 p.m.
Paul K. writes:
Here's a close, clear image of Ron Paul's falling false eyebrow: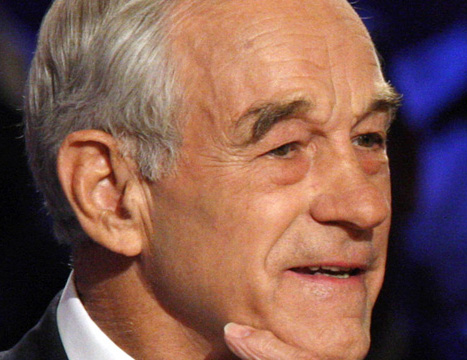 Since I entered my fifties, I've had a problem with bushy eyebrows, which require trimming. I've never heard of the opposite problem. Very strange.
LA replies:
I have the opposite problem. Since around September of 2010 I've had no eyebrows.
Paul K. replies:
On this subject, I found it strange many years ago when I realized that Groucho Marx's eyebrows and mustache were greasepaint.
Buck O. writes:
I was curious, so I googled: "Ron Paul photos." All of the displayed photos show those crazy eye brows.

They appear to be a combover.
LA replies:
What the heck is an eyebrow combover?
Buck replies:
That cracked me up!
LA replies:
But you haven't answered the question.:-)

For there to be an eyebrow combover would mean that there is real but sparse eyebrow hair which is being brushed over to cover the sparser parts. But that's clearly not the case here. The bushy eyebrow which is falling down is a separate entity from his real, thinner eyebrow.
Buck replies:
I know that's how it looks. I don't know what's going on. It could be that the brow is thicker and fuller at its beginning and rapidly thins to what appears to be sparse white hair. Rather than trimming to reveal that, he lets it grow long and combs it over, but it refuses to stay. Trump brows?
LA replies:
Interesting theory.

As for the comparison to Trump, as I've pointed out before, Donald Trump's hairstyle is absolutely not aimed at covering thin hair. Only someone with an extraordinarily thick head of hair could do what Trump does with his hair.
Posted by Lawrence Auster at October 13, 2011 02:53 PM | Send