The Occupy Wall Street / Occupy America movement just can't help but adopt every trope that will discredit it
Jeannette V.
writes:
This is the Occupy Winston-Salem poster. Remind you of anything?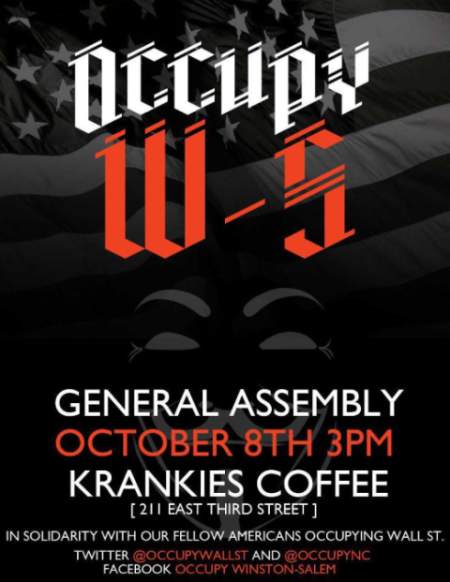 LA replies:
Well, it would seem not to be an inappropriate graphic style for a movement that wants to kill the moneymaking class and have sex with animals.

- end of initial entry -

Jim C. writes:
If you study the art of Weimar, Nazi, and Soviet propaganda, you'll discover some incredible posters and film. American, Japanese, and Chinese propaganda, on the other hand, just doesn't cut it.
A. Patterson writes:
In addition to using a poster reminiscent of the Third Reich, I also note that the Occupy Winston-Salem group is meeting in a coffee shop called Krankies. If the entire Occupy W-S movement can all fit in one coffee shop, seems to me that not much of W-S is going to get occupied.
Posted by Lawrence Auster at October 12, 2011 11:20 AM | Send