Norwegian media taped video of …
You realize
what this is, don't you?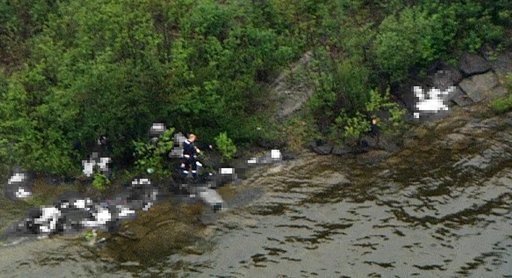 It's Anders Breivik calmly walking along a beach on Utoya island and delivering the coup de grace to people he has already shot. The victims have been smudged or covered with white squares to conceal their identity. The picture was taken from a helicopter belonging to Norway's National Radio and TV company, NRK. Even though all the pilots of the police helicopters were
on vacation
, and therefore the police had to travel by car to Tyrifjorden lake where Utoya island is located, taking a total of 90 minutes to arrive at the island while Breivik kept executing people at leisure, apparently no one thought of using the available NRK helicopters to help in the police operation or rescue the victims. Instead, NRK filmed the murderer shooting his victims.
More on this here.

Posted by Lawrence Auster at July 26, 2011 11:47 PM | Send