Rebekah Brooks resigns from Murdoch company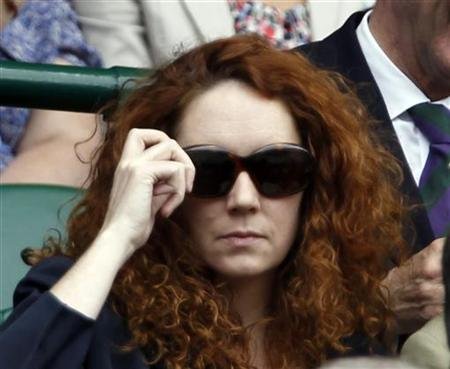 All last
week, the chief executive of News International, and thus the head of all Murdoch newspapers in Britain, and the editor of
The News of the World
in 2002 when the
recently revealed hacking
of the cellphone of the kidnapped and murdered 13 year old schoolgirl
Milly Dowler
took place, in addition to the NOTW's
previously revealed hacking of numerous other persons
, had resisted calls for her to step down, but the situation has kept deteriorating. The
Daily Mail
reports
:
Rebekah Brooks has finally resigned as chief executive of News International a day after it was alleged that Elisabeth Murdoch said Brooks had 'f***** the company'.

The decision to step down came amid deafening calls for her to quit by the likes of David Cameron, Ed Miliband and senior figures within News Corporation.

In an internal email to staff she announced she was standing down saying: 'I feel a deep sense of responsibility for the people we have hurt.

'I now need to concentrate on correcting the distortions and rebutting the allegations about my record as a journalist.' …

Had Brooks resigned last week, there is speculation that the News of the World could have been saved and media commentators suggested that the paper was sacrificed for her.
However, last week it was also said that a major reason for Brooks not to quit would be that if she did, the focus would then turn to the Murdochs themselves. That seems to have happened. Bloomberg News
reports
:
James Murdoch Faces Scrutiny From U.K. Lawmakers as Rebekah Brooks Resigns

U.K. lawmakers switched their focus to James Murdoch after Rebekah Brooks resigned as chief executive officer of News Corp. (NWSA)'s British publishing division amid the scandal over phone hacking at a tabloid she edited….

[Rupert and James Murdoch's] decisions to close down the News of the World, drop a bid to take full control of British Sky Broadcasting Group Plc (BSY) and now accept Brooks's resignation have done little to satisfy opposition Labour Party lawmakers….

"It's now about the Murdochs," said Chris Bryant, a Labour lawmaker who called the emergency debate on the News of the World held on July 6.
- end of initial entry -

Glenn M. writes:
It has been my experience, thirty years of corporate life, that women and blacks are the last ones or the least to resign when sacrifices are to be made. Rarely will they voluntarily step down to save the careers of others. Both have a sense of entitlement - that they are owed secure positions after history of glass ceilings and historical discrimination. Rebekah Brooks probably felt that her position was woman's victory - a phenomenon Murdoch had to protect. Everyone else was dispensable.
Glenn M. continues:
However, I will say that women will sacrifice fiercely and whole-heartedly for their husbands and children, which leads me to believe that the family is a more natural environment for women than the business world or political arena.
LA replies:
It's an interesting argument that I've never heard before—that women do not readily sacrifice themselves for their company, but do so for their family, and that this shows that caring for a family, not a company is their true vocation.

But are their facts showing that women are much less willing to sacrifice themselves for a company than men are?
Ed H. writes:
First things first. Rebekah Brooks feels nothing like remorse or responsibility. She is incapable of such emotions.

She has been gleefully opening mail, invading bedrooms, bugging phones, editing interviews, lying, evading. distorting and destroying lives, her entire life. She got caught this time, and she has become "news" herself and is being shoveled into the maw of the mass public. If she finds herself in jail, or impoverished I for one will delighted, it will be nothing less than what she has gleefully done to so many others. But this probably will not happen. She will be offered another job within the media, and most likely will be hired by the same people attacking her now. The one rule of the Media is mutual self protection. But we should all be edified if a global gangster like Murdoch can be brought down. But if the Left thinks they can contain this war they are wrong. We can hope that CNN or NY Times will take the next hit. May they all destroy each other. The world would be much better be served by many smaller independent news sources. There is more worth in one honest man blogging from his kitchen table than the entire robotic staff at FOX or WaPo or any of them. The Internet has been the greatest liberator of mankind since the printing press itself.
Posted by Lawrence Auster at July 15, 2011 11:11 PM | Send