Dantzler attempted to kill a third white girlfriend the same day he killed the other two
As was
reported
at this site yesterday, Rodrick Shonte Dantzler, after murdering his two white girlfriends and their relatives, including his 12 year old daughter, chased and attempted to kill another girlfriend, April Swanson. Based on her Swedish surname and Dantzler's history, I said it was more likely than not that she was white. A reader has found April Swanson's
MySpace page
. She says she lives in Grand Rapids, and according to the reader she also mentions her daughter Karissa (though I haven't found that mention yet myself) who was with her when Dantzler chased her in his car and shot at her, so it's definitely the same woman. Here is April's photo: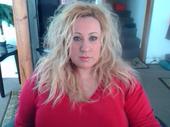 April Swanson
Suppose, God forbid, that Dantzler had succeeded in killing April, thus offing three white paramours in one day. Would the Eloi people and press of Grand Rapids have finally started remarking on a certain unusual, uh, racial pattern in Dantzler's love life and murder life? Of course not. There
is
no racial pattern here for them to remark on, because, by contemporary thinking,
race doesn't exist
—except, of course, when whites are accused of harming or discriminating against or not doing enough for nonwhites.
Posted by Lawrence Auster at July 10, 2011 05:11 PM | Send