Another racism hoax, following the time honored pattern
A Detroit
high school student, Courtney Thomas, 18, who we only know is black because the article includes his photo,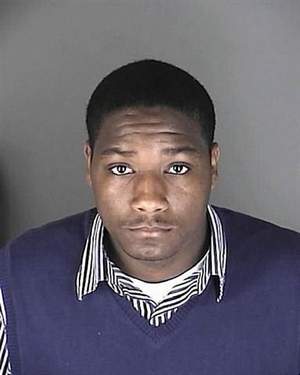 wrote a message on the school bathroom wall using the "N" word and threatening lynching and violence against black people. Now the hoax has been exposed and he has been arrested.
But notice how the article, by Elisha Anderson in the Detroit Free Press, is written. It tells us that Thomas wrote a "threatening message" and was charged with "ethnic intimidation." It doesn't say that he is a black person who wrote a note intended to sound as if it was written by a white person who was threatening to kill black people. The actual nature of Thomas's offense is never stated in the article. We are told that he has committed "ethnic intimidation," not that he has committed a fraud aimed at getting whites in trouble for a non-existent racist threat against blacks.
The story then refers to earlier incidents, some of them involving Thomas, but it's very difficult to make any sense out of it. Let's put it this way. If your average local crime story is written at a 12th grade level, this story is written at an eighth grade level, reflecting a certain well-known gap in academic skills between certain groups in America.
Seaholm student arraigned in racial slur case
BY ELISHA ANDERSON
DETROIT FREE PRESS STAFF WRITER

After police said he left a threatening racial message at Seaholm High School, an 18-year-old student participated in the school's Diversity Club and handed out "Unite Against Racism" buttons to students who signed pledges not to use racist language and to speak up when they hear it.

Courtney Thomas, 18, of Birmingham was arraigned Wednesday on a charge of ethnic intimidation in 48th District Court, where a plea of not guilty was entered. He is accused of writing a message on a bathroom wall, discovered April 20, that included a racial slur and the words "should be lynched" and "I'm going to kill them," Birmingham Police Deputy Chief Mark Clemencesaid. The message had the names of five students, including Thomas' own name.

Thomas' attorney, Wendy Barnwell, said she has heard about an incident where a picture of Thomas was manipulated to show a noose or chains around his neck. She said other students saw it, and a white student was suspended. She is gathering more information about what happened.

School spokeswoman Marcia Wilkinson said an incident occurred in the high school Dec. 14 involving a racially offensive image. She wouldn't say whether Thomas' picture was used, but said there wasn't a threat involved.

"It was offensive in the picture and words, but there was no physical threat involved," Wilkinson said.

She did not say where it was left, but said that a student's face was superimposed over an image pulled off the Internet. The student responsible was suspended for 10 days, she said. Wilkinson would not say what the words were or what the image was, but said a noose was not part of it.

A school police liaison officer was contacted in that incident, Wilkinson said. But police say they don't have any record of that occurring.

Police said Thomas wrote a confession to school officials explaining his actions. Thomas has no criminal history, his lawyer said in court.

"He's a good, solid kid who goes to church," Barnwell said. "He's been bullied. I'm aware of articles in school newspapers."

A November article about bullying appears on the school newspaper's Web site. In the Seaholm Highlander, a senior named Courtney Thomas said he often hears derogatory words like idiot in the hallways, and some of the words are directed at him. He also said in the article that people make fun of the poems he writes and his posts on Facebook.

During Thomas' arraignment, Judge Diane D'Agostini set a $20,000 personal bond. He was ordered to have no contact with the four people listed on the bathroom wall and to have no contact with Seaholm High School. D'Agostini set a curfew of 7 p.m. and said Thomas may only leave the house for work and medical appointments.

Thomas can graduate from high school because his grade point average is sufficient, his lawyer said in court. He hasn't attended the school since last week when he was suspended, school officials say.

Ethnic intimidation is a felony that carries a maximum two-year prison sentence upon conviction.

A preliminary exam is scheduled for Tuesday.

Three similar racial incidents were reported at the school in April and May, including one against an African-American teacher. Those are still being investigated.
Posted by Lawrence Auster at May 19, 2011 01:42 PM | Send