Full details on sex charges against Assange
I haven't
read it all yet, but
The Guardian
acquired access to the Swedish police allegations against Julian Assange and has
published
the whole story of, depending on your point of view, a soulless sex maniac, a violator of the Universal Safe Sex Protocol, or the victim of a feminist anti-male fantasy.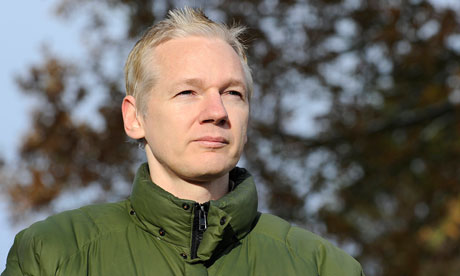 Julian Assange, or, given his expression, shall we call him Julian the First?
Here, from Lucianne.com, are some interesting responses to The Guardian's report:
Reply 2 - Posted by: Cooling Saucer, 12/18/2010 6:45:33 AM

Jeesh, what is it with radical leftist men and their inability to have loving sex? This really isn't any different from Algore with his, "Take care of this" crudeness or Bill Clinton receiving fellatio without ever having sex with the woman who serviced him. Leftist men seem to be crude, utterly without a shred of interest in the woman they are with, and vulgar. What a horrible environment to live in.

Reply 3 - Posted by: Kitty Myers, 12/18/2010 6:52:15 AM

After slogging through that entire tawdry he-said-she-said mess, I've concluded this is not a police matter. The charges sound manufactured; why, I don't know but can guess. The guy is repulsive and the women are 'loose.'

Reply 4 - Posted by: pineledger, 12/18/2010 7:10:53 AM

This is certainly all the gory details.

Reply 6 - Posted by: Bad Dog, 12/18/2010 8:19:10 AM

#2 - That is WHY they're leftists. They are godless, rudderless, and have no moral compass. Being a lefty allows them to satiate themselves and live hedonistic lives without guilt or fear of reprisal in the AfterLife.

It's not that they don't Believe, and THEN act poorly. They act poorly and then decide not to believe, so they can continue to act poorly.

It's the MO of the left. SOP.

Reply 7 - Posted by: Old Navy Chief, 12/18/2010 8:22:22 AM

Well a couple of things come to mind quickly. First, I have really been missing out on my last three trips to Sweden since I had no idea it was that easy to get lucky. Second, these people all deserve each other. The world will not end with a bang after all… just an unsatisfied whimper.

Posted by Lawrence Auster at December 18, 2010 07:59 AM | Send