What non-discrimination hath wrought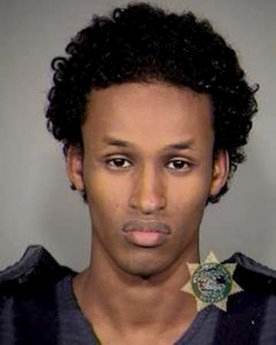 Mohamed Mohamud,
the would-be Christmas tree car bomber
Question: what
is this total alien doing in the United States? Answer: he's here
solely
as a result of the liberal principle that all Americans now embrace or accede to, and that none questions: that America should not discriminate against anyone when admitting immigrants into this country, but treat all nationalities, religions, cultures, and races the same.
Even Michelle Malkin, who decries the population of jihadist enemies in this country, has zero conceptual grasp of why these people are here. She too, never questions the belief system that allowed them to come here in the first place. She, too, lives mindlessly inside the liberal paradigm, while complaining furiously about its consequences.
- end of initial entry -
Michael S. writes:
He looks like a villain from Star Trek.
Roland D. writes:
Neither FBI nor CNN use words "Muslim," "immigrant," or "terrorist."
LA writes:
Qualifying what I said above, I assume that Michelle Malkin has criticized the asylum policies that allowed thousands of Somalis to settle in this country. But the granting of asylum to unassimilable aliens is just a small subset of the overall phenomenon of the mass legal immigration.of unassimilable aliens. And Malkin has never had anything to say about our immigration policies. She exclusively targets illegal immigration.
Posted by Lawrence Auster at November 27, 2010 09:55 AM | Send