The unceasing reminders that an alien resides in the White House
The Telegraph
reports
:
3:05PM GMT 25 Nov 2010

Sarah Omar, 88, who was on hajj pilgrimage to Mecca, told the Al-Qatan Saudi daily: "I prayed for my grandson Barack to convert to Islam".

The paper said that Ms Omar was in Saudi Arabia on pilgrimage along with her son, Mr Obama's uncle Saeed Hussein Obama, and four of her grandchildren.

Ms Omar told the newspaper that she could only discuss hajj matters and would not comment on Mr Obama's politics.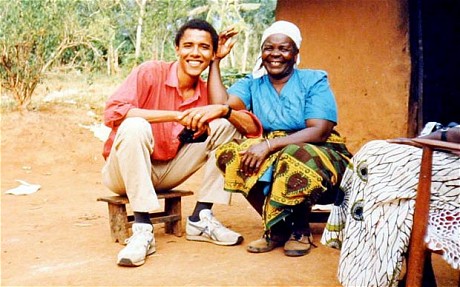 Young Barack with his Muslim paternal grandmother in Kenya
- end of initial entry -
Amit G. writes:
Lawrence, we appreciate the nice picture you made at vfr of Obama with his granny. First you had a picture of your family, now his. Thank you, that is how we bring people together showing there roots, where they came from, their heritage and our common humanity. We all have families and come from somewhere to be here. Thank you.
Posted by Lawrence Auster at December 02, 2010 06:31 AM | Send