Success
Allen West claims victory over incumbent Ron Klein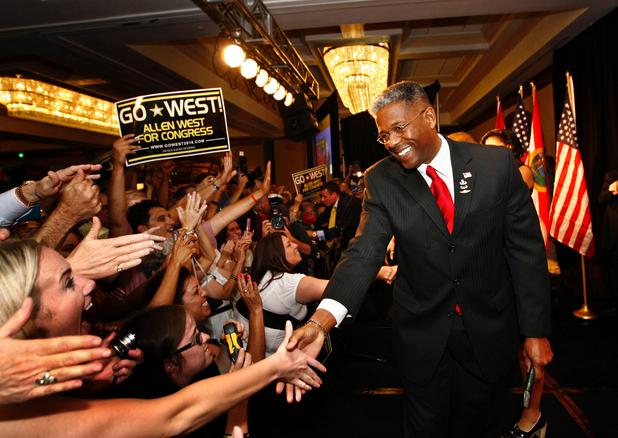 Allen West greets his supporters at the Marriott hotel
in Boca Raton Tuesday night

For the first time, there is a committed, articulate Islam critic in the U.S. Congress. Which is, sadly, a mark of how far we are behind Europe, where there are entire anti-Islamization parties in the Netherlands, in Austria, in Sweden, and now in Germany. Meanwhile, the U.S. Republican Party is so oblivious, both to Islamization and to our headlong surrender to it, that not a single congressional Republican protested when the Obama Defense Department systematically concealed the fact that the Fort Hood massacre was an act of jihad by an outspoken Muslim jihadist.
Let us hope that the eloquent Mr. West can stir the Republicans out of their fatal sleep.
- end of initial entry -
November 6
Hannon writes:
Thank you for posting the photo of Allen West among his celebrants. It is an uplifting image in every detail.

Now I ask you, have you ever seen such an expression of warmth and good character on Obama's mug?
Karl D. writes:
Here is a video clip of Alan West's congressional victory speech in Florida. At the end of most candidates victory speech they play some pop song that was part of their campaign theme. I think Mr. Wests choice was the best song choice I ever heard. He is the black anti-Obama. Notice the audience is entirely white.

Posted by Lawrence Auster at November 05, 2010 08:33 PM | Send