Councilman calls U.S. attorney "racist, evil viper" for successfully prosecuting him for bribery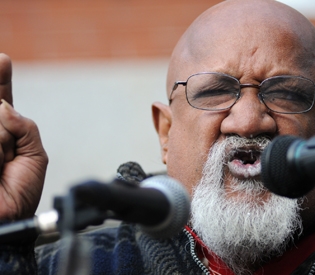 Chuck Turner rallying his supporters
Boston City
Councilman Chuck Turner has been convicted of taking $1,000 from an FBI informant, but he's still hoping to keep his seat. The
Boston Herald
reports
:
A day after he was convicted of taking a $1,000 bribe from an FBI informant, a defiant Chuck Turner called for a letter-writing campaign to keep him out of prison and on the City Council.

At a "teach-in rally" outside his Dudley Square office, the 70-year-old pol asked a crowd of about 100 supporters to urge U.S. District Court Judge Douglas P. Woodlock to sentence him to probation, rather than the maximum of 10 years in prison for extortion and five years for each of three counts of providing a false statement to the FBI.

"It was very clear in the trial that the conspiracy was not between Dianne Wilkerson and I," he said, referring to the state senator who pleaded guilty to accepting bribes. "It was between the FBI and (informant) Ron Wilburn."

The six-term councilor also asked supporters to write to Council President Michael P. Ross, asking him to postpone a hearing on whether to expel Turner as a member until after the judge reaches a decision.

"He asked me if I was going to resign. I said, 'No… Why should I resign? I've done nothing wrong,' " he said. "If you put a bullet to my head, that is the only way I am going to leave my people."

Ross said council rules require him to call a hearing on Turner's job status because he has been convicted of a felony. The hearing will likely be held sometime between Thanksgiving and Christmas, he said.

Ross would not say what his recommendation to the council would be, or whether he believed Turner to be guilty.

"It doesn't matter what I think," he said. "A jury has decided that he is, and that's significant."

At yesterday's rally, Councilor Charles Yancey said Turner "did not deserve" to be prosecuted.

"I know Chuck to be a man of integrity, to be a man to sacrifice for his community," Yancey said. "Why was the FBI so hell-bent on destroying one of our strongest leaders?"

A former head of the Boston Municipal Research Bureau said the council's hands are tied.

"They have no choice," said Joe Slavet. "You can't have someone on the council who's been convicted of a felony."

In a rambling, hourlong speech that touched on everything from the influence of corporations in government to the plight of white women in America, Turner called former U.S. Attorney Michael Sullivan a racist " evil viper" for bringing charges against him.

"Don't blame the jury. They are innocent victims. They were brought into a scheme and a plot that was hatched by U.S. Attorney Sullivan," he said. "This is an attempt by the government to destabilize a community of color that's on the move."

Turner said he had no regrets about testifying.

"People say, 'Chuck, you sent yourself to jail.' Maybe I did. So be it," he said. "I had to live by principle."
And here's a
story
on Turner's accomplice, bribe-bra-stuffing former state senator Diane Wilkerson.

Posted by Lawrence Auster at November 02, 2010 08:39 AM | Send