Photo of the Koran burning in Gateshead, Northumbria, England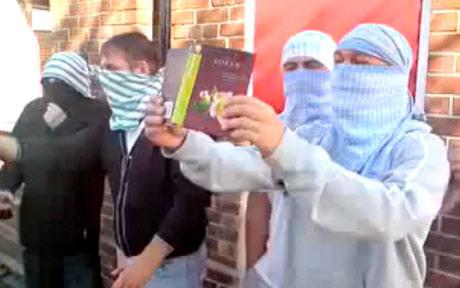 The men hide their faces as they hold a copy
of the Koran prior to setting fire to it
I don't know about you, but I find this photo inspiring. Because these young men (and as you can hear in the audio accompanying a sequence of
stills
of the event at YouTube, they are young men) are doing something that their government and their intellectual and religious leaders and their whole society ought to do, but are not doing. They are standing up against this monstrous religion which commands our destruction; this religion of war which has absolutely no business being practiced and observed among us, under our laws, under our protection; this religion which should only be allowed to exist, if at all, in its own God-forsaken lands where it will have no ability and no opportunity to harm us.
And what I just said is true, even if these young men's ability to articulate the meaning of what they are doing is limited and immature. In the realm of politics, the meaning of a statement or act, that is, the meaning that it conveys to society, is not determined by the speaker's or actor's personal understanding of what he is saying or doing, but by the objective content of what he is saying or doing.
Here is the story from the Telegraph:
Six people have been arrested on suspicion of inciting racial hatred after videos emerged on the internet apparently showing copies of the Koran being burned.

Officers detained two men on September 15 and four more yesterday and all six were bailed pending further inquiries, Northumbria Police said.

"The arrests followed the burning of what are believed to have been two Korans in Gateshead on September 11," the spokesman said.

"The incident was recorded and a video placed on the internet."

In a video still accessible on YouTube, six young men in hooded tops or wearing scarves over their faces can be seen pouring petrol on a book and setting it alight, before burning another.

On the video, which appeared to have been filmed behind a pub, they cheer as the first book bursts into flames.

Northumbria Police said the men were not arrested for watching or distributing the video, but on suspicion of burning the Koran.

Gateshead Council and the force issued a joint statement to stress that community relations in the area were good.

It said: "The kind of behaviour displayed in this video is not at all representative of our community as a whole.

"Our community is one of mutual respect and we continue to work together with community leaders, residents and people of all faiths and beliefs to maintain good community relations."

The men may have been copying Florida-based Pastor Terry Jones, who caused an international outcry by threatening to burn the holy book on September 11, although he did not go ahead with the plan.
Posted by Lawrence Auster at September 23, 2010 07:03 PM | Send