The ultimate in today's female insanity—more precisely, female supremacism—and in the willingness of society to play along with it
Inez Sainz
is a female sports reporter from Mexico who dresses like a whore, boasts of dressing like a whore, and indeed has built her career on dressing like a whore—and now she has created a scandal over some professional football players who engaged in some harmless male playfulness in her vicinity, and the
New York Post
legitimizes
the absurd complaint by putting it on yesterday's front page.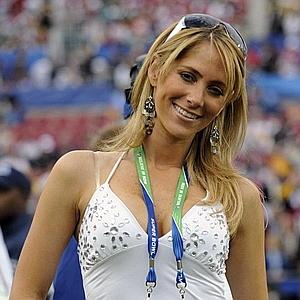 Inez Sainz, reporter
(This photo from the online
Post
story shows less than half of what is shown in the print version of the photo in yesterday's
Post
. In the full photo, Sainz is wearing extremely tight, extremely low rider jeans, with the belt barely a few inches above her crotch, and with her midriff bare. Not only that, but she herself has described such dress as "appropriate.")
Jets flagged making passes at hot reporter
September 13, 2010

Talk about offensive lines!

Jets head coach Rex Ryan, one of his assistants and some of the team's players are being probed for unsportsman like conduct against a sexy female reporter after they allegedly pestered her with goofy, on-field antics and locker-room catcalls.

NFL and team officials yesterday said they were investigating reports the Jets made suggestive comments to knockout TV correspondent Ines Sainz—who calls herself "the hottest sports reporter in Mexico"—during and after a weekend practice at their Florham Park, NJ, facility.

Sainz, a bombshell blond reporter for TV Azteca, was at the Jets' practice Saturday to interview quarterback Mark Sanchez.

PHOTOS: BOMBSHELL MEXICAN REPORTER INES SAINZ

HOW THE NEW MEADOWLANDS STADIUM TRANSFORMS FROM BLUE TO GREEN

COMPLETE JETS COVERAGE

Today she tweeted, "Thanks everyone for your support. I already spoke to the NFL, which will decide if there will or will not be consequences. I can say that at the time I didn't want to pay attention to what was happening but the rest of the media heard clearly and in solidarity have denounced what happened, hoping that there is always a respectful climate."

During the portion of practice open to the media, Ryan and defensive backs coach Dennis Thurman purposely overthrew passes so they would land near Sainz, she said.

Later, during a locker-room availability, several players allegedly hooted and hollered when Sainz walked in.

She later tweeted she was "dying of embarrassment."

Red-faced team execs said in a statement, "The New York Jets believe that reporters have a job to do, and it is our obligation to provide them with proper and professional access.

"[Team owner] Woody Johnson spoke with Ines Sainz of TV Azteca today to discuss the time she spent covering the team yesterday. He stressed to Ines that he expects all members of the Jets organization to conduct themselves in a professional manner at all times."

Last night, the team said Joanne Gerstner, of the Association for Women in Sports Media, had spoken with Jets general manager Mike Tannenbaum, and also has contacted the NFL.

"We are working with that organization to schedule an educational and awareness session with the team," said Jets spokesman Bruce Speight.

"And also, the matter was addressed during a team meeting tonight."

Sainz posted a picture on Twitter of herself at the practice and, apparently to silence any critics, said she was not "inappropriately dressed."

She had roamed the sidelines in tight jeans, high heels and a low-cut blouse as footballs spiraled in her direction.

A bikini-clad Sainz has been featured in numerous photo spreads.

[end of Post article]
As I have
written
:
The way many women dress today, with half their breasts exposed, is an expression of total disrespect for men. Men are left with three possible responses. To grab the woman, which is illegal; to ogle the woman, which is socially unacceptable; or to affect not to notice the woman at all, which is emasculating. A culture that normalizes such female behavior—i.e. not only not noticing or objecting to it, but prohibiting any objection to it—is extremely sick.
UPDATE: I'm told that on
Good Morning America
this morning, a female representative of some women in sports organization said this: "It wouldn't matter if she wore see-through lingerie—they [the football players] have no right to behave like that."
There's the undiluted message of female supremacism: women have the right to expose their bodies to the titillating maximum, but if men are in fact titillated at the sight and express it, that is an outrage. Women can express their sexuality to the nth degree, but men must suppress theirs. Women are everything, men are nothing.
Which returns us to Carol Iannone's Theory of Viagra. In today's female supremacist society men are expected to suppress their natural urges to such an extent that when the time comes to express them, they can't, so they have to take a pill to help them do what nature should be able to do on its own.
- end of initial entry -
Ben W. writes:
In discussing female appearance and dress at VFR, has VFR addressed the Lady Gaga phenomenon, or have I missed it?
LA replies:
I will not be discussing Lady Gaga. Every time I see her in the NY Post, and she's there almost every day, I gag and then I turn the page. Her very name makes me gag. I barely know what she is and I don't want to know. All I know is that she represents something extremely revolting.

As I've said before, in order to discuss and understand cultural depravity, we do not need to go into its deepest depths. Its moderate depths are enough.
James P. writes:
You wrote: "Inez Sainz is a female sports reporter from Mexico."

Just looking at that picture, I never would have guessed she was from Mexico. The Mexican women I see around here are all short, fat, and dark.

She is a perfect example of the feminist tactic of emasculating men through visual aggression.
Carol Iannone replies:
"She is a perfect example of the feminist tactic of emasculating men through visual aggression."

That is very well put.
LA writes:
By the way, I"m not sure that I (or anyone) have used the term "female supremacism" before. I like it. It's better than "gynocracy" (however gynocracy" is spelled—I can never remember).

Yes, I see it has been used. Well, I'm going to use it from now on. It's the feminist equivalent of a phrase Robert Spencer often uses, "Islamic supremacism."
Michael S. writes:
You wrote:

"I will not be discussing Lady Gaga"

Thank you, thank you, thank you.
Charles T. writes:
You wrote:

I will not be discussing Lady Gaga. Every time I see her in the NY Post, and she's there almost every day, I gag and then I turn the page. Her very name makes me gag.

LOL!! Gagging. Yep. The Lady could literally Gag-a-maggot.
Ben W. writes:
Can pro football locker rooms, some of the last bastions of male machismo, be a hostile work environment for media of the opposite sex?

Perhaps, at times. But after back-to-back dust-ups regarding women in the locker room, the NFL—a league that increasingly relies upon support from women—wants to remove any doubt that sexism is rampant in their workplaces.

The commissioner's office Tuesday directed that a memo be sent to team public relations directors asking them to reinforce long-standing league policy regarding news media cooperation.

Additionally, in an e-mail sent to Jenni Carlson, chairwoman of the board of the Association of Women in Sports Media, the NFL repeated its policy.

http://www.usatoday.com/sports/football/nfl/2010-09-14-ines-sainz-nfl_N.htm
Posted by Lawrence Auster at September 14, 2010 05:05 PM | Send