Mad love leads woman to grisly and absurd death
A 49
year old female doctor in Bakersfield, California pursues her estranged 58 year old man friend by climbing down his chimney, gets stuck in the chimney, and dies of asphyxiation.
I see it as further evidence of the hyper egotism and aggression that sexual liberation and feminism have planted in the female sex, and that have made them lose their minds.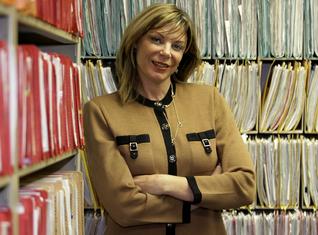 Dr. Jacquelyn Kotarac in 2007.
First, here is a short, early version of the story (no link):
BAKERSFIELD, CALIF. Cops: Woman gets stuck, dies entering by chimney

Police say a California doctor apparently tried to get into the home of the man she had been dating by sliding down the chimney. Her decomposing body was found there days later. Police Sgt. Mary DeGeare says investigators do not suspect foul play in the death of Dr. Jacquelyn Kotarac. Authorities say the 49-yearold apparently climbed on the roof Wednesday night, removed the chimney cap and slid feet first down the flue after unsuccessfully trying to get into the house other ways. DeGeare says the man whom Kotarac was pursuing had left the home unnoticed to avoid a confrontation. The body went undiscovered for several days until someone noticed odors coming from the fireplace.
Since Kotarac was born in 1960 or '61, it's a fair assumption that she was named after Jacquelyn Kennedy. Thus a namesake of the quintessence of femininity loses her life by climbing down a chimney to chase a man. That sort of sums up the transformation of women over the last fifty years, doesn't it?
Here is a much fuller article, from the Bakersfield Californian:
Coroner: Bakersfield doctor suffocated in chimney in accidental death
Last Updated Tuesday, Aug 31 2010 07:17 PM

A Bakersfield doctor whose decomposing body was found Saturday in the chimney of her estranged boyfriend's house died accidentally from being unable to breathe, the coroner's staff reported Tuesday.

Other new developments in the death of Dr. Jacquelyn Kotarac—who on the night of Wednesday, Aug. 25, went down the chimney to try to get into the house—include that she had an airplane ticket to go to Amsterdam on Friday with the boyfriend, and she arranged earlier on Wednesday night to have a service drive her home from Cafe Med where she had been drinking, police Sgt. Mary DeGeare confirmed.

The chimney was too narrow for a person to get all the way down, police said.

The boyfriend, identified by neighbors and property records as 58-year-old William H. Moodie, the owner of a petroleum engineering company, not only reported Kotarac missing Thursday but also slept in his house Thursday night as Kotarac was stuck, apparently dead in his chimney, DeGeare said. He was never considered a suspect in the case, the sergeant said.

Moodie, who left for the trip Friday, did not return a telephone call Tuesday.

The incident began Wednesday at about 10:15 p.m.—some two hours after Kotarac was driven to her home in the Tuscany neighborhood near Lake Ming—when she drove herself to Moodie's home in the 4300 block of La Mirada, a few blocks east of the Four Points Sheraton Hotel.

Moodie didn't want to see her and slipped out the back door when she arrived, police said.

Kotarac apparently used a shovel to try to break into the back door, police said. Moodie spent the night elsewhere, police said.

The internal medicine doctor, a 1991 graduate of UCLA Medical School, did not show up Thursday at the San Dimas Street medical office where she worked, police said.

One of her assistants contacted Moodie on Thursday, and both of them searched his house. That's when the shovel was found as well as her purse and her car, police said.

Moodie and the assistant reported her missing, DeGeare said.

Moodie returned to his home Thursday to prepare for his trip and he spent the night there, DeGeare said.

Another assistant to Kotarac drove her car to Los Angeles that day to update her passport for the trip, the sergeant confirmed.

Police searched the home Friday evening, but also did not find her body or smell any bad odors, DeGeare said.

Following the missing person report, the doctor's family consulted a psychic who couldn't feel the doctor's presence, according to Wayne Wallace, a private investigator. He said he was consulted by the family Saturday to look into Kotarac's disappearance.

Wallace said he gathered information Saturday but he deferred to police Saturday night after a woman checking on Moodie's fish tank discovered a foul odor and saw fluids in the fireplace.

Police then discovered a body lodged in the chimney and flue. Police said Kotarac used a ladder to get to the chimney and she removed the cap and slid down the flue feet first.

Bakersfield firefighters dismantled the chimney Saturday night and Sunday morning, the day Kotarac would have turned 50 years old. [LA replies: so she was born in late August, 1960, after John F. Kennedy's nomination to be president and just before the general election campaign was about to start.]

Two sisters, one of whom is a nurse, and a friend consulted with Wallace on Saturday, the private investigator said.

Sometime after Kotarac returned home from Cafe Med, where her family said she was a regular visitor, she stopped at a Chevron station and bought cat food, Wallace said.

It is unknown if Kotarac was drunk Wednesday and that part of an autopsy typically isn't available for weeks.

Wallace said he learned Kotarac sometimes showed up late for work, but every patient he talked to described her as a very good doctor.

She had a pending misdemeanor case in Kern County Superior Court for allegedly not paying a cab driver. A hearing that had been scheduled for Friday was delayed to Oct. 1.

Public records show Kotarac had some financial problems, such as owing back taxes. Wallace said Moodie paid for Kotarac's airplane ticket.

The medical office where Kotarac worked was closed Monday, but it reportedly reopened Tuesday.
- end of initial entry -
Stephen T. writes:
I'll tell you this: I feel a lot more sympathy for Dr. Kotarac than for Elin Nordegren. The former seems to me a classic example of one of the many lost souls existing in quiet desperation—her 50th birthday was, significantly, just hours away and she was still husband-less and apparently couldn't even hang on to a steady boyfriend. The Swedish stunner, on the other hand, probably never met a man she couldn't possess with a toss of her blonde head, and passed on scores of suitors to parlay herself into a marriage with a fabulously wealthy international superstar athlete (then got her fingers burned—but with a multi-multi-million dollar compensation. Boo hoo.) [LA replies: Numerous commenters took strong exception to Stephen's view of Elin Nordegren.] A long way from this sad, probably intoxicated woman, a solitary silhouette in the moonlight up on that roof in dreary Bakersfield, desperate enough to take such a stupid measure as trying to slide down a chimney in a grasping attempt to reconcile with—or, yes, probably confront in drunken tears/fury—her nice, average-guy ex-boyfriend … who ran out the back door when he saw her coming.

I think Dr. Kotrarac thought: I've done everything right. I studied hard, graduated with honors, aced med school, helped people, treated some patients for free, kept myself thin (that chimney was only 7 inches wide at the top), made what I could of my natural looks, dressed in a feminine way (see yelp.com comments below.) Yet, here I'm turning 50 (Fifty! she must have anguished) and I still can't manage a lasting relationship with a man. I have nobody. What's WRONG with me?

Well, who knows what it was? But it's certainly a genre of desperation that the winners in life's lottery like Elin Nordegren have no knowledge of. Nor can I imagine what her last thoughts must have been suffocating alone in the chimney that narrowed to only 4 inches wide. All the lonely people / Where do they all come from?/ All the lonely people / Where do they all belong?

Surprisingly, Dr. Kotarac's yelp.com reviews page is still up as of this moment here But yelp will probably take the page down soon. Aside from the expected recent comments making fun of her death, there are some telling remarks you might find interesting. Somewhat amusing comments from a woman patient who thought she was a good doc but apparently didn't appreciate her short dresses or exam room manners.
LA replies:
Loneliness and sadness are human and normal; climbing down the chimney of a man's house in order to confront him with one's love—climbing down a chimney, period—is mad and depraved. I don't think it's good to express sympathy and understanding for depraved and suicidal behavior.
Richard W. writes:
The strangest thing about this story to me is that this well educated woman has the knowledge of chimneys of a five year old. Everything she knows about them she learned in kindergarten, apparently, when Santa used to bring her toys down the one at home.

How can a competent adult not know that every fireplace has a heavy steel flue to control the smoke, and that when it is opened fully the resulting opening is still only a few inches wide. I say "knowledge of a five year old," I'm pretty sure that by the time I was six or seven I had already had a good look up the chimney and realized no fat man was coming down it, ever.

So this ends as yet another sad story of an adult-as-child dying from lack of basic real world knowledge. This is not surprising, really, its sort of the emblem of liberalism. To be a liberal is to be continually surprised by simple facts that most other people learned in childhood.

You can't run around the city in a mini-skirt at 2:00 AM without risking assault. Not everyone thinks the same. Some people will always hate you for what you represent, no matter how pure your heart. There are bad people in the world who will hurt you if they can. Islam is a warlike religion. To this list we must now add: you can't climb down a chimney like Santa Claus.
LA replies:
I think I like Richard's interpretation better than mine.
Posted by Lawrence Auster at September 03, 2010 09:50 AM | Send