Scowling First Lady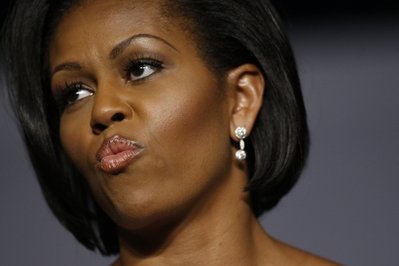 We elected
as president of the United States of America a man whose wife
plainly told us
, over and over, that she doesn't like America, and now we've got her. See my
epiphany
about the nature of Michelle, from New Hampshire, January 2008.
Here, from the Mail, are more photos of the ineffable charmer herself, on vacation in Spain.
- end of initial entry -
Lois writes:
But you have to admit, she has a fine set of chompers when she smiles.

Note to Oprah: Fat women should NOT wear white pants. Ever!
Posted by Lawrence Auster at August 05, 2010 05:37 PM | Send