The Masseuse goes public
At the
website
of the
National Enquirer
: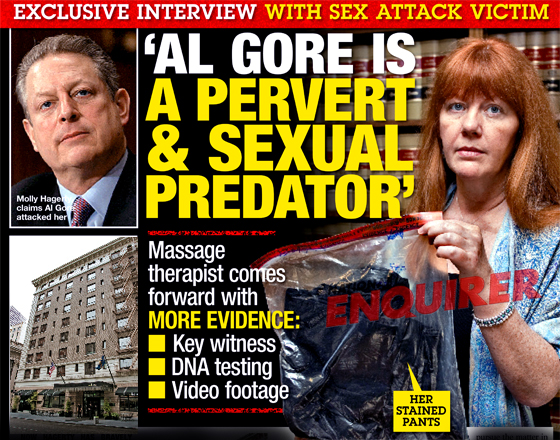 AL GORE SEX SCANDAL ACCUSER reveals shocking NEW EVIDENCE - ONLY to the NATIONAL ENQUIRER in a bombshell world exclusive interview!

"AL GORE is a pervert and sexual predator," declares MOLLY HAGERTY, 54, the massage therapist who told Portland, Ore. police that the ex-VICE President sexually assaulted her.

"He's not what people think he is - he's a sick man!"

When the ENQUIRER first broke the world-exclusive story last week her name was withheld as the victim of a possible sex crime.

NOW, Hagerty has bravely gone public - AND on the record- only to The ENQUIRER - to demand police launch a full investigation.

"I want justice served," Hagerty said as she reveals the key witness who could blow the case wide open, the secret hotel video surveillance and the DNA evidence!

FOR THE FULL STORY WITH ALL THE DETAILS it's ONLY in the new ENQUIRER - on sale NOW!
I know that readers of this high-minded blog will be shocked to hear this, but I will be picking up a copy of the
Enquirer
tomorrow.
Personally, my instinctive feeling is that the story is not true—it's just too extreme. However, just as there are reasons not to believe the Masseuse's Tale, there are also reasons to believe it. And the only way to find out what the truth is, or at least get closer to the truth, is to see what's there. Enquiring minds want to know.
- end of initial entry -
Ben W. writes:
To go along with your purchase of the Enquirer tomorrow: Police reopening the Gore case.
Ben W. writes:
BTW I thought that The Enquirer's performance was outstanding when they uncovered the David-Bathsheba connection when the king was attempting to cover up the affair (and consequences). However I'm told by those in the know that The Enquirer was all over the Adam-Eve thing when they attempted their cover-up.
LA writes:
By contrast with VFR, where I am treating the story objectively and am saying that we don't know if it's true or not, at Lucianne.com, all the commenters are regarding the story as true and are treating it as an occasion to heap mocking abuse on Gore.
Posted by Lawrence Auster at June 30, 2010 07:27 PM | Send