Obama's Hispanic Secretary of Labor (or is that Secretary of Hispanic Labor?) urges illegal aliens to complain to her about unfair wages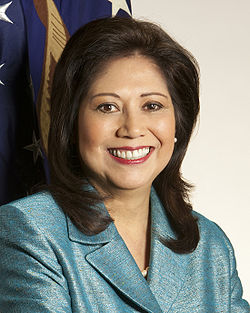 Hilda Solis
The video
announcement, addressed to "every worker in America, whether documented or not," is posted at
Hot Air
, where Ed Morrissey calls it
the most tone-deaf public-service announcement—yet—from the Obama administration. The U.S. government occasionally conducts raids on employers who hire illegal immigrants as workers, even during Barack Obama's term of office. Now suddenly Secretary of Labor Hilda Solis has established a hotline number, not for people to tip the government to employers breaking the law, but to act as an agent for illegals to make sure they get paid "fairly."
Prior to becoming Obama's Secretary of Labor,
Hilda Solis
, born of parents from Mexico and Nicaragua, was the congresswoman for East Los Angeles.
- end of initial entry -
James P. writes:
Morrissey wrote:

Now suddenly Secretary of Labor Hilda Solis has established a hotline number, not for people to tip the government to employers breaking the law, but to act as an agent for illegals to make sure they get paid "fairly."

If I knew of any places that employed illegals, I would report them immediately. I want illegals to be paid "fairly"—because the sooner illegal labor costs the same as non-illegal labor, the sooner employers will stop clamoring to import illegals and pressuring politicians to do so. Also, if the Feds showed up to investigate these "unfair" practices, the workers themselves would surely head for the hills, and hopefully, back over the border.
Jake F. writes:
I actually think Hilda Solis is, at least, a consistent liberal on wages.

Generally speaking, we Americans have a disconnect in the way we think about labor. On the one hand, we insist that all businesses must pay all employees a living wage. (I can almost get behind that idea, except for the stupidity of mandating that wage at the Federal level. Is a living wage in a Louisiana backwater the same as a living wage in Manhattan?) On the other, we insist that we should not look too closely at Hispanic laborers, even though many are illegal, because "they do the work Americans don't want to do" at a price that Americans wouldn't be willing to accept.

In other words, we deny American citizens the ability to determine what an acceptable wage would be for themselves, while we allow businesses to exploit illegals at wages below the supposedly agreed-upon "living wage" standard. Illegals, in that scheme, are sub-human, not even due the money needed to live.

Since liberals tend to be those arguing both that we must have a high minimum wage and that we must have lax immigration enforcement, they are responsible for creating this dehumanizing societal construct for the very people they claim to support.

Solis breaks the construct by saying that if we're going to let them in and let them work, they should be paid a living wage.
LA replies:
Yes. However, as I always say, our society only continues to function at all, to the degree that liberalism remains inconsistent.
Posted by Lawrence Auster at June 21, 2010 03:30 PM | Send