Darwin Award winner or martyr to freedom? Take your pick
No sooner
had I posted the previous
item
, about Natalee Holloway's high school graduation trip, a four-day, morning-to-night drinking binge in the Caribbean island of Aruba which ended with her going off with three young men and never being seen again, than I opened today's
New York Post
and saw
this
:
Sandaled hiker in death fall

A 17-year-old girl hiking in strappy, open-toed sandals on a treacherous Catskills trail plunged 100 feet to her death, grieving friends and family said yesterday.

Olivia Rose Belfiglio was celebrating "Senior Cut Day" with fellow students from Saugerties HS in upstate Ulster County.

They were in an area known as the Devil's Kitchen at 2:30 p.m. Friday when she lost her footing. None was wearing what police called "appropriate footwear."

There are no official trails in that section of the woods, said Tannersville Fire and Rescue Assistant Chief Stephen Tuomey.


OLIVIA BELFIGLIO Tragically wrong footwear

"It's very hard to get to unless you really, really know the area," he said.

Olivia friend Jessica Goldstein called the small road, which is closed off in winter, no easy hike.

"It's dangerous even in a car," she said.
If you're young and female in America, you can do anything. You can go hiking in the Catskills in open sandals. You can leave the marked trail and go through dense woods, wearing open sandals. You can go right up to a hundred foot drop, wearing open sandals. Because it's your world and you can do whatever you please.
And no one would even dream of telling you otherwise.
Liberal society is a factory for the production of dead young white women.
- end of initial entry -
June 7
A reader writes:
This happened in my neck of the woods. I know the road and area from which she fell very well. It is true that the road (which I have driven many times) is very scary, steep, narrow and twisting with no guard rails. Like the article says, it is closed to traffic from November until mid-April. It has stunning views. At the top of the road is the mountains and ski communities of several small towns known as the "High peaks" area. At the bottom is the Katerskill falls made famous by the Hudson River School painters such as Thomas Cole. As to this girl's death? Sadly this is nothing new up here. Every summer at least three people fall to their deaths. Mostly at the area of Katerskill falls. I had a very close call there myself. Us locals usually just shake our heads because it is almost always because of people (usually tourists) wearing the wrong footwear, going off trail, being drunk or all three combined. Then we have the older set who have heart attacks while hiking demanding trails. All in all it is the stupid feeling of invincibility in all these victims that brings about their ends. In the case of most teens I can't really blame them for that feeling. Lord knows I felt invincible at that age. But this girl was local and should have known better then to hike that area in sandals.

PS. Attached is a painting by Thomas Cole of Katerskill falls (1827).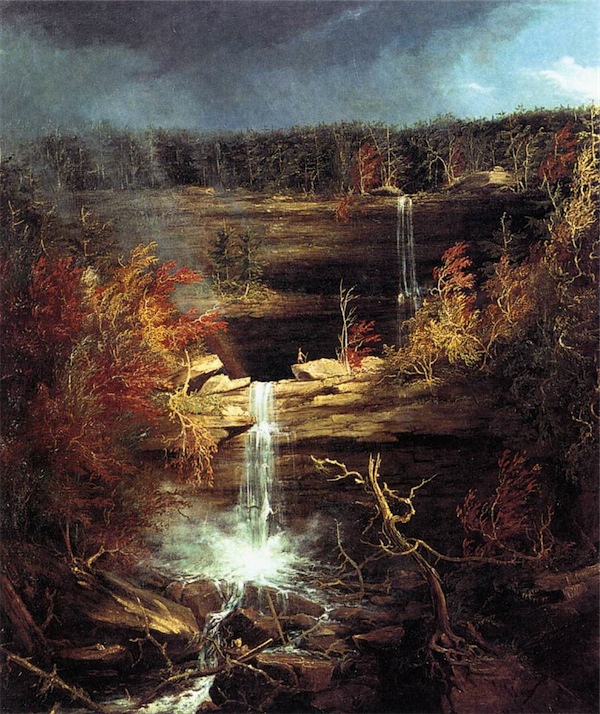 LA replies:
Sure, I've been there, hiked up to Katerskill Falls. And for the Catskills, it's an unusually rough area for hiking.
Posted by Lawrence Auster at June 06, 2010 08:05 PM | Send