A British election with an Italian-style denouement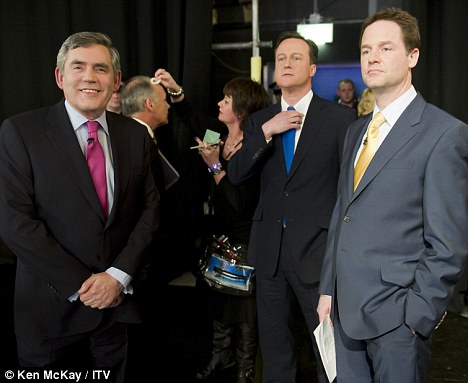 Dracula with a mellifluous voice and his two opponents
(Did you ever see a face as vacant as David Cameron's?)
In the
British parliamentary elections, Labour and the Liberal Democrats lost seats, while the Conservatives gained seats but fell about 20 seats short of a majority. The Cameronized Tories' failure to win an outright majority, an outcome contrary to what had been the universal expectation until the last month, is to be welcomed, as it prevents the seal of approval being put on Cameron's remaking of the Conservatives as a liberal party. Meanwhile, Brown is refusing to resign and would like to form a coalition with the Lib-Dems. But as commentators point out, this would amount to a "coalition of the losers" formed for no other purpose than to keep the party with the most seats from power, which would look so bad that the British system could not tolerate it. (Also, Labour's 358 seats plus the Lib-Dems' 57 seats would still fall 11 short of 326, so other minority parties would also have to join the coalition.) The only viable remaining option, short of calling new elections, is for the Conservatives to form a coalition with the Lib-Dems.
What do the Lib-Dems want in exchange? Support for proportional represention, a system that would make it impossible for any party to govern. As Richard Littlejohn writes in the Mail:
[W]hile Cameron can probably make some concessions over electoral reform, he must draw the line at Clegg's demands for full PR.

Over the past 24 hours we have been given a nightmare glimpse of what proportional representation has to offer.

This is what every election aftermath would be like in perpetuity—an inconclusive result, followed by a demeaning round of horse-trading, with jobs and policies being divvied up cynically without further reference to the paying public.
However, the pro-Tory
Telegraph
(a paper which is about as "conservative" as the "Conservatives" it supports) has a
different angle
. It says that Cameron can form a governing majority with the informal support of a handful of small parties in the House of Commons.
For further insights see Iain Martin at the Wall Street Journal and Phillippe Naughton at the Times.
On a sidelight, VFR's favorite British politician of recent years, the transplendent Jacqui Smith, has been defeated in her parliamentary constituency. The Times reports:
Jacqui Smith, the former Home Secretary, who was forced to step down from the government after she used her parliamentary expenses to pay for her husband's adult films, has been emphatically defeated in Redditch. She is the biggest scalp of the election for the Conservatives. Karen Lumley, the party's candidate, won 19,138 votes—9.2 per cent swing from Labour. Ms Smith, who was deeply embarrassed by the disclosure of her expenses claims, became largely synonymous with the scandal. A doleful-looking Ms Smith looked close to tears at the count.
Posted by Lawrence Auster at May 08, 2010 01:21 AM | Send