The English Defense League—decidedly not dead—successfully protests construction of large mosque in English town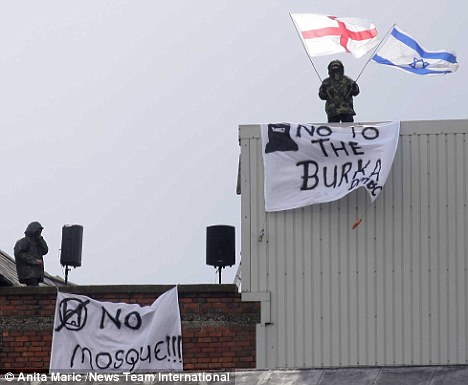 The account
provided
by the
Mail
is not terribly coherent, but the minimal facts seem to be as follows: (1) Muslims had government permission to build a large mosque with a 65 foot minaret in the town center of the West Midlands town of Dudley, notwithstanding a petition signed by 50,000 residents protesting that the mosque would destroy the town's medieval character (note: the English call a
small city of 194,000
a "large town"); (2) masked members of the English Defense League staged a disorderly protest on the roof of an abandoned building located on the land where the mosque was to built; (3) it's been announced that the mosque is not going to be built. Who made that decision, and whether it was in response to the EDL demonstration, is not made clear in the
Mail
article. The article has lots of pictures.
Could the EDL put together a slate of parliamentary candidates for tomorrow's election? I know, I know. But is that question any more absurd than the three actual choices the British electorate face?
UPDATE: Uh oh. After posting this entry, I noticed that one of the English Defense League protesters is carrying an Israeli flag along with an old English flag with the St. George's cross. They pretend to be fascists, with those cool masks and head coverings, but they're just another bunch of damn neocons! Forget about any support for the EDL from Richard Spencer, Kevin MacDonald, and the other contributors at Spencer's web magazine, Anti-Israel Right. Somehow I think the EDL will manage to carry on without them, however.
- end of initial entry -
A reader writes from England:
I LOVE your blog and it is very, very educational and maybe someday I will write something more valuable, but I just wanted to point out that Dudley is indeed a town. In England and Wales, the distinction between city and town is still whether or not it holds a charter as a city, which was historically based on whether or not there is a cathedral (though that is no longer the only criterion). Therefore, St David's in Wales, which has a population of less than 2,000, is a city, and Reading, which is even larger than Dudley with over 200,000, is a town.
LA replies:
Thank you.

So, in most cases what makes a municipality, regardless of its size, a city is that it has a cathedral. Interesting.
Ron L. writes:
I am happy to see the EDL win something. While they are not running for parliament, there are more than just three choices. Aside from the ersatz nationalists in the Scottish Nationalist Party and Welsh Plaid Cymru, there is also the English Democrats running for the first time. There are also the British National Party and the UK Independence Party. Whereas UKIP had previously been a single issue of leaving the EU, they are now a full conservative opposition to the Tories. They are led by a former Conservative and now UKIP Peer, Lord Pearson of Rannoch. Lord Pearson is the one who recently hosted Geert Wilders. Were I British, I would vote UKIP.
Posted by Lawrence Auster at May 05, 2010 01:53 AM | Send