Killer of "Realtor to the Stars" gets 25 to life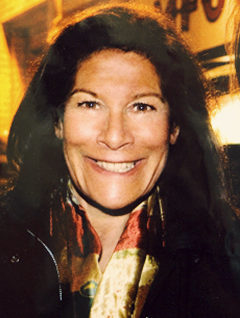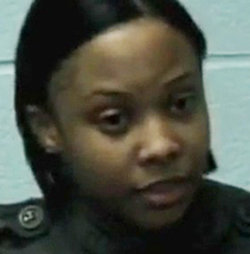 Natavia Lowery
was
sentenced
yesterday to the maximum of 25 years to life for the October 2007 murder of her employer, Manhattan realtor Linda Stein, whom she killed by hitting her over and over on the head with a heavy object (which prosecutors have not found—it was not the weighted yoga stick that earlier had been believed to be the weapon) after, prosecutors believe, Stein discovered that Lowery had been stealing from her and confronted her about it. (Confronted a possible criminal about her criminal acts while alone with her?) According to this Feb. 23, 2010
article
, prosecutors believe that Stein was hit on the head more than two dozen times. The killer apparently stood on Stein's back while striking her, breaking her spine. Lowery insists she is innocent and still seeks a "fair trial." In court yesterday, Stein's daughters, one of whom discovered her mother's cold, battered body, expressed their intense grief and sense of loss.
Lowery, who is remorseless and conscienceless, seems to have changed her story several times in the 2 1/2 years since the murder. First she denied any involvement. Then she admitted killing Stein, but said that Stein drove her to it by her racist treatment of her. Then in the just concluded trial she once again claimed she is innocent. At trial her defense attorney pointed to her sweet smile and said that such a person couldn't be a killer. She had a history of identity theft before Stein hired her as a personal assistant. During her four months of working for Stein, she stole more than $30,000 from her by forging credit cards in Stein's name and withdrawing money from Stein's bank accounts.
I haven't seen any explanation of why Stein was so naive in hiring a person with a background of identity theft to be her personal assistant, and why it took her so long to realize that Lowery was robbing her. Part of it may be (as I've just heard) that Lowery was hired not by Stein but by Stein's employer who send her to work for Stein in her home; but still, doesn't one exercise more caution about whom one allows into one's home and into one's personal and financial business? Part of it may be the same reason that Stein needed a personal assistant to begin with: she was recovering from breast cancer, did not have her former level of energy, and needed someone to handle personal business she had formerly handled herself, and so was also perhaps less mindful of what her assistant was up to and what sort of person she was than she otherwise might have been. Or perhaps Stein was a typical liberal and simply closed her eyes when it came any problems with black people.
A more complete story on the case comes from Salon, "Natavia Lowery found guilty of Murder 2," which, unlike the almost useless articles in the daily papers, provides some perspective. It makes clear Lowery's repeated lies that were exposed at trial, the absence of any remotely believable defense, and the defense attorney's outrageous efforts to keep pretending there was one. He even said that the fact that Lowery wore her pants inside out on leaving Stein's apartment the day of the murder, which the prosecutors said she did to cover the blood on her pants, meant nothing:
Here is the Salon story (which has no by-line that I can see). The online version has photos and videos, including the video of Lowery entering the building with her cargo pants on and leaving the building with the pants turned inside out:
Thank God it's finally over! The jury has returned a guilty verdict in the trial of Natavia Lowery, charged with 2nd degree murder in the killing of NY Realtor Linda Stein. At the request of the defense on Friday Judge Carruthers allowed the jury to consider the lesser charge of manslaughter—but to no avail. Jurors deliberated for only 5 hours before declaring Lowery guilty on the top charge of murder at 5:30 pm today. "The prosecution did a great job." said Juror Kelly Newton. "We'll never know what truly provoked this," she continued. "If anyone had a motive, it was the person who was stealing from Linda Stein, the person who was caught in the act." Newton said the jury rejected the defense contention that Lowery's confession was coerced, saying, "Coercion never even entered deliberations." Lowery showed no emotion as the verdict was read, and left the courtroom smiling.

It was a difficult case to watch; things went from bad to worse for Lowery who nevertheless remained deeply delusional and committed to stonewalling even as efforts at damage control loudly backfired. Once the disputed confession video was ruled admissable and the extent of Lowery's dishonesty throughout it became evident, her character has taken one hit after another until it became impossible to hide behind the "young, pretty, sweet smile" anymore. After a ploy to prevent prosecutors from bringing up her history of identity theft and credit card fraud by admitting to the larceny charges against her, Lowery's defense was stopped short of pushing their "look at her sweet face how could she do such a thing" strategy by new evidence uncovered through careful examination of the surveillance video and reported by this blog and it's readers.

Prosecutors have emphasized Lowery's attempts to cover up the crime, by planting voice mail messages as an alibi and intercepting Stein's phone calls throughout the day. During closing arguments ADA Joan Illuzzi-Orbon called attention to the fact that surveillance photo evidence shows Lowery turned her pants inside out before leaving Stein's building, laying waste to defense assertions that Lowery had no blood stains on her pants and therefore could not be the killer. "The pants were an important piece of evidence" said Juror Kelly Newton, "The pants were huge." In fact Good Blog Stay and our contributing correspondent "Matlock" have been credited by the NY Times and NY Post for breaking the news about the pants right here in these very pages.

" … the prosecution is expected to highlight the discrepancy in the pants, first noted publicly on a blog, goodblogstay, suggesting that Ms. Lowery turned her pants inside out to conceal the blood." wrote John Eligon of the Times.

WATCH THE VIDEO, SEE FOR YOURSELF

Lowery's estranged defense team made a last ditch effort to accuse authorities of ignoring other leads in their pursuit of Lowery and again challenged the validity of Lowery's since-recanted confession. However the defense never introduced any evidence of the possibility of another murderer, and rested their case without calling any witnesses at all. Lowery has refused to speak with her three-member defense team and has twice tried to fire them, claiming they went against her wishes when they acknowledged that Lowery had stolen around $30,000 from Stein. Though she declined to testify on her own behalf, Lowery has insisted on representing herself since the news of the inside-out pants made the "she's a thief but not a murderer" defense strategy irrelevant.

Judge Carruthers denied Lowery's demand for new counsel and told her to "get over it", prompting outbursts from her family members who then had to be forcibly removed from the courtroom. From the beginning Lowery's friends and relations have made contentious accusations and threats against Stein's daughters Mandy and Samantha, who have acknowledged a sometimes volatile relationship with their mother. Extra security has been assigned to the trial to protect Stein's family as well as prosecutors as they enter and leave the courthouse. Twice, extra court officers have been called into the courtroom, lining up in the aisle to keep order between supporters of the two sides.

With virtually nothing left to offer the jury, defense attorney Thomas Giovanni staged a theatrical re-enactment of the fatal beating in his summation. Kneeling on one knee, Giovanni slapped the ground repeatedly for each of the fatal blows Stein received, and he stomped on the floor to represent the killer breaking Stein's spine. The performance was intended to show that it would have taken someone far stronger than his client, Natavia Lowery, 28, to commit the crime. Attempting an end-run around the inside-out pants, Giovanni told jurors "It doesn't make a damn bit of difference." It was enough to make Stein's daughters, Samantha and Mandy, burst into tears and run out of the courtroom.

Lowery was also found guilty of 24 counts of assorted larceny, fraud and identity theft charges for her thefts from Stein's credit card and bank accounts. It is widely believed that it was a confrontation over the theft that led to the brutal beating, and that Lowery's dubious claims about losing her temper over Stein's abusive conduct were only a self-serving attempt to cover up the stealing that had been going on for months beforehand. Additionally Lowery is due back in Bronx court on March 24th to face Aggravated Harassment charges for tossing urine and feces in the face of a Corrections Officer at Riker's Island. Sentencing in the Stein murder case is set for March 22. Lowery faces 25 years to life for the murder charge alone, plus anywhere from 1-7 years for the lesser felonies. It is not yet known whether the terms will run consecutively or concurrently.

While Good Blog Stay pats itself on the back for a job well done we also Congratulate the all-female prosecution team of Joan Illuzzi-Orbon and Shanda Strain. Thank you ladies, for putting this "wolf in sheep's clothing" away where she belongs!

[end of Salon article]
Here are previous VFR entries on the case:
The death of Hattie Carroll in reverse
Here is the May 3 story in the Daily News :
A smirking killer's defiance in the face of a life sentence collided with a pregnant daughter's grief Monday in the murder of rock 'n' roll Realtor Linda Stein.

"My mother will never set eyes upon or hold my baby," said Mandy Stein, who revealed she is four months' pregnant with her first child.

Her gut-wrenching emotion came in stark contrast to convicted murderer Natavia Lowery's cold insistence that she's not guilty.

"This is just the beginning of a new fight … to get a fair trial," said Lowery, who scoffed at her punishment.

Lowery, 28, got the max of 25 years to life for bludgeoning her boss—plus 2-1/3 to 7 years for stealing $30,000 from her.

She entered Manhattan Supreme Court smirking and refused to look at Stein's two tearful daughters even as they called her "a ruthless killer."

Mandy Stein, 35, said she is still tormented by finding her mother's battered body in an upper East Side penthouse Oct. 30, 2007.

"I am haunted by the images of what I saw that night as well as what I felt—my mother's body, hard as a rock and cold to the touch," the documentary filmmaker said.

Her sister, Samantha Stein, 37, tried arduously to get Lowery, her mother's personal assistant, to look at her.

The unrepentant defendant, wearing a cream linen suit refused to meet her gaze, shuffling papers instead, seemingly indifferent to the tongue lashings.

"Natavia, I am beyond angry with you. You robbed me like you did my mother," Samantha Stein said.

Stein's daughters called their mother "our hero," a breast cancer survivor with the "chutzpah" to succeed as manager of the punk group The Ramones, and later as the favored Realtor to stars such as Madonna.

"You beat her to death," Samantha Stein exclaimed. "You then took every opportunity to smear her good name. You are a disgusting person."

She said her mother would have turned 65 last Saturday, and that this Sunday will be "another motherless Mother's Day."

"You are truly a cold, ruthless killer," she told Lowery.

The sisters said they were "re-victimized" by the behavior of Lowery and her family—who have suggested the daughters had a role in Stein's death.

"I personally was accused by them of carrying out this heinous crime in a confrontation outside this courtroom," Mandy Stein said.

Lowery, convicted Feb. 23 after five hours of deliberations, was unmoved.

She insisted she was railroaded by an "incompetent" defense team and "underhanded tricks" perpetrated in the judge's chambers.

"I was never afforded a fair trial," said Lowery, who was pregnant at the time of the slaying and delivered a baby while in jail awaiting trial.

While professing his client's innocence, newly hired defense lawyer Paul Brenner pleaded for "mercy," asking Justice Richard Carruthers to give Lowery the minimum prison sentence.

Carruthers was unimpressed, ordering her to repay the $30,000 she stole and saying he would recommend she never get parole.

"Ms. Lowery acted with an uncommon and almost inhuman degree of coolness and calculation," he said.

mgrace@nydailynews.com
Here is a
Daily News
article
from March on how Lowery's family disrupted the proceedings.

Posted by Lawrence Auster at May 04, 2010 08:44 PM | Send