It's The View !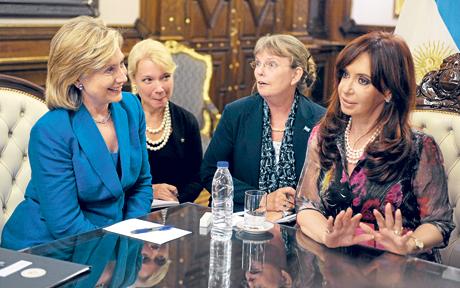 Uh, no
, it's the U.S. secretary of state and the president of Argentina.
What we see in this photo is the self-evident absurdity of a female political leadership class.
In a normal, man-centric political world, an occasional woman who is operating more or less within the standards of that world, such as Margaret Thatcher, can be a leader and function well. But once the political world become predominantly female, then it changes to something fundamentally different and inappropriate to politics.
Similarly, in private life, when a woman is relating to men, she is capable of relating to them intelligently. But once you have a group of women talking together, as in this picture, then it automatically switches over to the female thing, which—sorry, folks!—is a whole different thing from the male thing, is not oriented toward intellectual seriousness about large issues, and is incompatible with political leadership.
- end of initial entry -
Karl D. writes:
Very funny! Actually it is more like "Real Housewives of the Political Class." That's my take-off on the horrible reality series on the Bravo channel called "Real Housewives of New York".

Here is a picture of the Upper East Side yentas from the show:
March 8, 12:15 a.m.
Kilroy M. writes:
The expressions on those faces are priceless—a real window into the souls of these Leaders. You couldn't ask for a more telling pose. What are they discussing, I wonder? World debt? Unicorns?
LA replies:
The facial expressoins of the four of them are striking, but to me the most significant is Hillary's, that look of approval on her face for the Argentinian president. That's the way women relate to each other socially, they unqualifiedly affirm each other. Think of the way Oprah's audiences coo and approve the guests. As ought to be obvious to everyone, but apparently is obvious to almost no one in our feminized society, that look, and the attitude it conveys, is totally incompatible with the relations between heads of nations.
Posted by Lawrence Auster at March 06, 2010 03:30 PM | Send