Suspect held
A registered
sex offender named John Albert Gardner is being
held for questioning
in the disappearance of 17 year old Chelsea King in San Diego (discussed in previous
entry
). The sheriff says that numerous pieces of physical evidence connect Gardner to King, and that there is a "strong possibility" that he is involved in her disappearance. A statement by Chelsea's parents says, "She is an extraordinary daughter and also someone who is committed to her community. She has huge dreams and wants to change the world." Maybe she was dreaming her huge dreams about changing the world when she went jogging alone in a place that, according to
several VFR readers
who are familiar with the area (see comments by Scott H., Ferg, and James P.), abuts on areas populated by lawless people. Perhaps if she were an ordinary girl who just wanted to live in this world instead of an extraordinary girl who wanted to change it, she might have been paying more attention to her actual environment, or, better, not gone there at all. In no story so far have I seen any suggestion that it was not wise for a teenage girl to go running alone in a park, apparently on one of the many trails in the park. The coverage of the story, the sentimental response, and the statement by Chelsea's parents assure that other extraordinary young women will keep doing what Chelsea did and delivering themselves into the maw of death.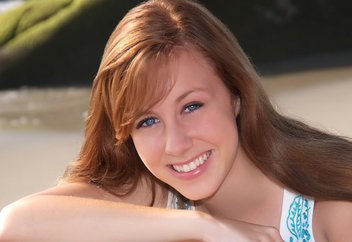 Chelsea King
As for Gardner, according to
this page
, "He had to register as a sex offender because of a conviction for lewd or lascivious acts with a child under 14." According to
this page
, he is 6'2" and 230 lb.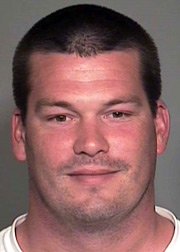 John Albert Gardner
Comments
Laura Wood writes:
The statement by Chelsea's parents reads as if it's from an application to Yale or Brown. You know, in the essay where you prove you are a prophet of world transformation and a local volunteer too.
LA replies:
Every phrase is a liberal cliche.
Laura replies:
I guess anything you would say at that moment would be a cliche. It's the grandiosity that's disturbing. How does one summon that even in the hours of grief?
LA replies:
Yes. She had "huge dreams" to "change the world." For heaven's sake, she was a 17 year old girl.

They summoned such grandiosity in the hours of grief because, in the liberal imagination, the only way that a human life can have meaning, the only way it can be justified, is if the person is "changing the world," i.e., overcoming inequality, raising up the poor from the dunghill. Our society is essentially unjust. Therefore the purpose and meaning of our lives is not to participate in and contribute to our society, but to change it; not to add anything to the world, but to transform it. Even the life of a 17 year old high school student.
LA writes:
My critical analysis of the parent's statement was even truer than I realized. Here is the statement:

Nothing will change for us until our beautiful daughter, Chelsea King, comes home. We … will continue searching for her, and we ask that all of you do the same until she's back with us. She is an extraordinary daughter and also someone who is committed to her community. She has huge dreams and wants to change the world. Hundreds of people are working alongside us to make sure she has that chance, and we are deeply grateful. [emphasis added.] She and our entire family need your help now for Chelsea's safe return. We thank law enforcement for pursuing all avenues to bring this situation to an expedient, positive outcome. We will be posting regular updates from our family on Facebook page: Chelsea King Search Center.

Why are people out searching for Chelsea King? To save her life? No. They're out searching for her to make sure she has the chance to change the world. What has been taken away here, if Chelsea is dead, is not the life of a human being, but a project of political and social reform.

The Kings remind me of the sons of the late U.S. senator Paul Wellstone, who, after he died in a plane crash, turned their father's funeral into a political rally for the Democratic Party and the progressive agenda.
Rick U. writes:
The term "registered sex offender" perfectly illustrates our liberal society. First, it muddles the language by avoiding much more definitive terms, like say pervert, rapist, and so on, and second, it provides a false sense of security suggesting that the system has them under control—which it clearly does not. It is maddening to watch these children subjected to the meat grinder that our society has become by registering these evil people instead of incarcerating them.
Rick U. writes:
According to this web page there are 63,000 registered sex offenders in California, and if I am reading the page correctly another 22,000 are not included in that number. I guess these are the statistics of a "civilized society" in liberal America. 85,000 violent people are allowed to roam through society providing some the opportunity to move from "registered sex offender" to murderer.
Posted by Lawrence Auster at March 01, 2010 12:52 AM | Send