New York City names street after criminal who tried to kill police officer
Serious American
conservatives regularly remark that as leftist and nihilist as Europe is, America is moving along just a few steps behind. Here is sad proof of that truism. In 2006
Mumia Abu-Jamal
(Wesley Cook), the black radical who was convicted and sentenced to death in the execution-style murder of Philadelphia police officer Daniel Faulkner in 1981 and then became a leftist
cause celebre
, had a street named in his honor in the Paris suburb of St. Denis. When that happened, I was sickened and thought that the French had gone off the rails into complete nihilism. I felt absolute contempt for them.
Yesterday the New York City Council voted to name a street in Queens after Sean Bell, the thug who was shot dead by police and became a leftist cause celebre after he attempted to run down a New York City police officer with his car outside a Queens strip club in 2006.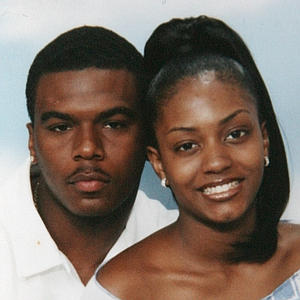 New York City's latest civic hero with his fiance
Blacks (not
all
blacks but blacks as an organized political force), other nonwhites (not
all
nonwhites but nonwhites as an organized political force), and white leftists are waging a war to destroy white Western civilization—or, if you prefer, simply civilization. The only way they can be defeated is if the white majority of the Western world stands up, identifies this anti-Western war for what it is, and begins to push back.
Street renamed for Sean Bell
By SALLY GOLDENBERG
December 22, 2009

The City Council yesterday approved renaming a Queens street after police-slaying victim Sean Bell, but several legislators said he wasn't worthy of an honor often bestowed on cops killed in the line of duty.

With the council's vote yesterday, three blocks of Liverpool Street in Queens, where Bell was shot and killed by cops on his wedding day, will be co-named Sean Bell Way.

"A City Council that places a man who nearly ran over police officers in the same category as heroes who risk their lives for us all every day needs to no longer have the authority to do street renamings," fumed Councilman Vincent Ignizio (R-SI), who voted early in the meeting and left in protest.

Supporters said the renaming was appropriate.

"The truth is the death of Sean Bell, and the response thereafter, has caused significant change for the public policies of the city of New York," Council Speaker Christine Quinn said.

"This isn't meant to be anti-police officer."

Councilwoman Letitia James (D-Brooklyn) said she voted for the measure to honor Bell's daughter, Jada.

"No matter how many flaws he may have had, she no longer has a daddy," James said.

The street naming for Bell—who was grouped with 69 other deceased New Yorkers, including former state Sen. John Marchi, of Staten Island, and boxing great Sugar Ray Robinson—passed 41-7, with two abstentions.

Councilman Peter Vallone Jr. (D-Queens), who chairs the Public Safety Committee, said he resented having to vote against the bill for people he considers heroes simply because the council would not allow Bell's portion to be considered in a separate vote.

"It's a despicable position we're being placed in," Vallone said. "There is nothing about [Bell's death] that reflects positively on the city. He's a criminal. He was driving drunk."

Vallone said that he asked Quinn to take Bell's name out of the bill but that he asked for the change too late in the process.

Police shot at Bell, who was 23 and unarmed, 50 times outside a Jamaica, Queens, strip club in 2006 as he left a bachelor party with friends.

A judge last year acquitted three detectives of all charges in Bell's killing, a ruling that prompted widespread protest.

Detectives' Endowment Association President Michael Palladino, who attended the council meeting yesterday, said recently that Bell had a criminal history and brought on his own death by aiming his car at cops.

Mayor Bloomberg said he would approve the street-naming bill but pointedly avoided supporting the Bell portion.

"When a bill comes before me listing a lot of names, I will sign the bill, regardless of how I feel about any one," he said. "It's a prerogative of the City Council and a tradition that they do it, and I will just—rather than inflame the situation—sign the bill."

sally.goldenberg@nypost.com
- end of initial entry -
Jonathan W. writes:
The Post reports:

Councilwoman Letitia James (D-Brooklyn) said she voted for the measure to honor Bell's daughter, Jada.

"No matter how many flaws he may have had, she no longer has a daddy," James said.

Letitia James's justification for voting to rename the street is so laughably asinine that it should wake up whites to the type of "leaders" that will be elected in a non-white society. If every person who died young with a child deserves a street named after the person, there wouldn't be enough streets in the entire city.
A. Zarkov writes:
We should not be surprised. You have Malcolm X Blvd. in Manhattan. It starts at about 135th St. as a continuation of Lenox Ave. and terminates at Central Park (110th St.). There's also a Malcolm X Blvd. in Brooklyn. Out my way, we have Malcolm X Elementary School, Malcolm X Adult School, Malcolm X Arts-Academics Magnet School—all in Berkeley. Then there is Malcolm X Plaza at San Francisco State University. And so on.

Let's not forget that Malcolm X was an illiterate thief, a pimp, a drug dealer, a convict and a bigot. Later in life he reformed somewhat, but these undeserved honors bestowed on him show our degraded values. My daughter attended an expense, elite, private high school that was almost entirely white. I found out that the school spent more time studying Malcolm X than George Washington. I think that most of the parents would approved, and therein lies the problem—white liberals. So what else is new?
Christopher C. writes:
Even if we put Sean Bell's actions that night in the best light possible, and ignore certain undeniable instances of imprudence, we are still left with only one possible virtue: the manly virtue of fighting back; not allowing oneself to be dominated. Now, this is no small virtue. Taken as courage, it's paramount; it's manhood itself.

But, one might ask, what about who he was fighting? Isn't the fact that the other guys were cops matter? Strictly speaking, and having gone through a few if/then thought experiments, (if he reasonably believed they were not cops but thug assassins; if he knew they were cops but was reasonable in resisting their unlawful arrest, etc.), I think those being charitable to Bell have to answer something along the lines of, 'it doesn't matter; we're praising his willingness to fight.'

Ok.

But, it's stupid because it ignores so much of the context. Men get into fights all the time. Kill each other, and die like men, even in New York, not infrequently. And have been doing so for 300+ years I should think.

So, no, just that paramount virtue can't be it.

Perhaps it is a form of memorial for an innocent victim; a remembrance, a useful remembrance. But then, why him? Why this one guy?

One answer: why not? If not him, who? If not now, when?

But that depends on whether NYPD violence against the Sean Bells of the City had risen to the level where it needed—not just for him, but for all the city, to be resisted; and that resistance remembered and honored.

My view: No, it's not as much praise for him for dying like a man, mutatis mutandis, as an attempt to permanently publicly shame the non-Sean Bells of the City.

So ultimately it's a rude, no-class annoying gesture by a baby-tantrum body politic. A whining cry-baby move.
Posted by Lawrence Auster at December 22, 2009 12:12 PM | Send