Mutilation and murder of wife in London street
(Note: We learn from other news accounts, linked by readers below, that the woman was a Sikh. It appears that Sikhs also practice honor killing including severing of the hand.)
From the reported facts it's very likely that the crime was a Muslim honor killing in which a husband with the help of five other men killed his wife. But the Breitbart news service account says nothing about Islam and nothing about honor killing. It tells us zero about the ethnicity of the victim and her killers, other than what can be gleaned from the victim's name (which could possibly be Hindu rather than Muslim). Based on what the story actually tells us about the crime, Breitbart would implicitly have us believe that somehow, by some unknown and unknowable concatenation, British husbands, aided by their male friends and relatives, have begun chopping their wives' hands off in London streets then striking them a blow on the head and leaving them to die. It's all a mystery how such savage violence appeared in England. It's beyond us. And it must remain beyond us, because it is wicked and immoral to think that people's ethnicity, race, and religion matter. People should be seen only as individuals, not as members of any group.
I've said that liberal society is a factory for the production of dead young white women. But liberal society is also a factory for the production of dead young Muslim (and perhaps Sikh) women. The West invites people from Muslim societies into the West; Muslim women, living in the West, naturally begin behaving in Western ways; and their male relatives kill them for behaving in Western ways. Wouldn't it be better, not just for us, but for them, if we left them where they were?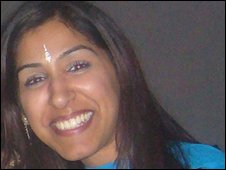 Geeta Aulakh
Six arrested over woman left to die in London street
Nov 18 06:31 AM US/Eastern

Six men have been arrested over the killing of a woman who was found dying in a London street with one of her hands cut off.

The victim's estranged husband is among those arrested.

Mother-of-two Geeta Aulakh, 28, was attacked in Greenford, northwest London, on Tuesday as she made her way to her childminder's home.

She was found with head injuries and a severed hand, according to witnesses.

Aulakh was taken to hospital but died a few hours later. A post-mortem has since revealed that she died of a severe head injury.

Detective Chief Inspector Andy Chalmers, who is leading the inquiry, said: "When the victim was found we know that a lot of people were in the street and that several people may have tried to administer first aid before the police or ambulance arrived.

"These people left the scene before speaking to police and I would ask that anyone who was there, or anyone else who has information about the incident, call us in the strictest of confidence."
- end of initial entry -
Roland D. writes:
Thanks to the Daily Mail, we learn she was a Sikh:
Dale F. writes:
It appears from this article that the husband and wife were Sikhs—who also practice honor killing—not Muslims:

The article also discusses the special significance for Sikhs of severing the right hand:

A friend said: 'It's horrific but hugely symbolic that Geeta's right hand was cut off.

'She was a Sikh and all Sikhs wear a metal bangle, the kara, on their right wrist.

'It is a permanent reminder to live a moral and good life and once it's on you can't get it off. So her murderer was both dishonouring her and perhaps trying to show she had been dishonourable—which is just barbaric.

Article on the kara here.
Rick U. writes:
From webindia123.com:

Aulakh, 28, had a head wound and her right hand was severed from her arm, police said amid speculation Wednesday that she was a victim of 'honour killing'—a practice that occurs predominantly among Sikh and Muslim communities
Posted by Lawrence Auster at November 18, 2009 02:18 PM | Send