Times: female police officer was not the one who stopped Hasan
(Note be sure to see the follow-up
entry
about the Times' revised version of their article in which much more of the truth comes out.)
Yesterday a friend and I spent some time trying to figure out, on the basis of contradictory newspaper accounts, what happened in the shooting of the mass murderer Nidal Hasan.
The public had initially been told with great fanfare last week that petite Police Sgt. Kimberly Munley arrived on the scene, engaged in a gun battle with Hasan, was wounded by him, and after she was wounded kept firing and brought him down with a shot to the chest, ending the massacre. Here is one of the accounts last week, from Fort Hood's commandant, Lt. General Robert Cone, as reported in the London Sun and posted at VFR the day after shooting:
She was quite effective, one of our most impressive young policemen. She walked up and basically engaged him. I think, certainly, this could've been far worse. Often you circle the building and wait for back-up. But the thinking is if you act aggressively and take-out the shooter you have less fatalities. She happened to catch him as he walked around the corner and she engaged in gun fire where she shot the suspected assailant four times and she was shot herself.
But this week other stories came out indicating that Police Sergeant Mark Todd, who in the initial accounts had been on the scene but had not engaged in gun fire, was the one who actually brought down Hasan.
First, here is a story by AP writer Jay Root in the November 8 New York Post, which I first read yesterday. (The Post doesn't say it's an AP story, but I saw the same story elsewhere listed as an AP story.) It is very different from the earlier stories that emphasized Munley's role. Unfortunately, it is incoherent. Today's reporters have no concept of describing an event in chronological, step-by-step fashion. They divide an article into a bunch of tidbits, each in its own paragraph, and then publish these paragraphs without any apparent sequence—sort of like the Koran.
Fort cop recalls his 45 seconds of sheer terror
By JAY ROOT
Last Updated: 12:09 PM, November 8, 2009
Posted: 2:19 AM, November 8, 2009

KILLEEN, Texas—One of the two police officers who gunned down alleged Fort Hood mass murderer Nidal Malik Hasan gave a chilling account yesterday of his harrowing confrontation with the crazed triggerman.

The firefight between Sgt. Mark Todd, his partner, Sgt. Kimberly Munley—who has been hailed as a hero for her actions—and Hasan lasted less than a minute.

But the exchange, which left Munley injured and Hasan critically wounded, ended a bloody massacre that killed more than a dozen people and left several others clinging to life.

Seconds after Todd, 42, arrived on the bloody scene, he said he saw a calm-looking Hasan with his gun drawn and his fingers pointing at people.

"He was firing at people as they were trying to run and hide," Todd said yesterday.

That's when the cop, a retired soldier who now works as a civilian police officer at Fort Hood, said he shouted at Hasan.

"I told him 'stop and drop your weapons.' I identified myself as police and he turned and fired a couple of rounds at me. I didn't hear him say a word … he just turned and fired."

His partner had been felled by the suspects' gunfire by the time he was able to squeeze off the first shot from his Beretta. [LA replies: notice the complete absence of any sequence here. This is the first that Munley has been mentioned, and the story doesn't tell us what Munley did prior to being shot.]

"Once he started firing at me, I lost track of her," Todd said.

Struck by their slugs, Hasan flinched, then slid down against a telephone pole and fell on his back. [LA replies: Root doesn't actually say that Munley was firing, but he does mention "their" slugs, indirectly suggesting that both were firing at Hasan at the same time. It's left ambiguous whose shot brought down Hasan. Earlier accounts had said that Munley shot Hasan in the chest and put him out of commission.]

Todd says he then heard bystanders say "two more, two more."

At first he thought they meant there were two more gunmen, but realized they were urging him to fire two more rounds at Hasan, thinking he was still posing a threat.

The officer then kicked away Hasan's gun, which he said had a laser-aiming device attached to it.

"He was breathing, his eyes were blinking," Todd recalled. "You could tell that he was fading out. He didn't say anything. He was just kind of blinking."

Todd handcuffed Hasan and checked to see if he was still alive.

"He had a good pulse," said Todd.

He also cut off pieces of Hasan's clothes so he could get first aid and noticed that the alleged killer had gunshot wounds on his side and back.

The suspect, who may have been paralyzed by the shots, was taken off a ventilator yesterday, but remained in intensive care.

From the time he got to the scene until Hasan dropped, the whole encounter lasted about 30 to 45 seconds, Todd said.

Munley was in worse shape than the other eight patients that arrived at Metroplex Adventist Hospital in Killeen—except for one who died en route, said Dr. Scott McAninch.

She was rushed into surgery within minutes, but was recovering yesterday.

Meanwhile, a neighbor said that hours before the killings, Hasan—who attended a Virginia mosque at the same time as two of the 9/11 hijackers, according to London's Telegraph—said: "I'm going to do good work for God," according to the Washington Post.
My interest piqued by the
Post
article, I looked further and found this
story
from
USA Today
. It does not include a date, it just says "updated."
Amid chaos at Fort Hood, police targeted shooter
By Judy Keen, USA TODAY

Kimberly Munley, the civilian police sergeant who helped end last week's Fort Hood massacre, said Wednesday she acted instinctively when she raced to the scene and exchanged fire with the alleged gunman, Army Maj. Nidal Hasan.


Kimberly Munley with Defense Secretary Gates

"We didn't have too much time to think" as the "very confusing and chaotic" scene unfolded, Munley said in an interview on The Oprah Winfrey Show.

She had been washing her patrol car at the end of her shift when she responded to reports of shooting. "As soon as I got out of my vehicle and ran up the hill is when things started getting pretty bad and we started encountering fire," she said.

Chuck Medley, Fort Hood's director of emergency services, said Munley fired on Hasan twice, drawing his attention. Hasan "immediately spun around and charged her. She fired a couple more rounds, fell to her back and continued to fire," Medley said.

[LA replies: One, the article doesn't say that Munley's shots actually hit Hasan. Two, instead of telling us what the hell happened next, the article jumps to Casey's comments about Munley.]

After the Nov. 5 shooting, Gen. George Casey, the Army's chief of staff, said Munley "probably saved a lot of lives with her actions." Lt. Gen. Robert Cone, commanding officer at Fort Hood, called it "an amazing and an aggressive performance."

Appearing with Munley was Senior Sgt. Mark Todd, another civilian police officer who helped bring down Hasan. [LA replies: perhaps I've missed it, but in none of the stories I've seen about Munley and Todd have I seen any mention of the municipality for which they work. They are simply "civilian police officers."] Todd was not injured; Munley was shot in the hand and both legs. They spoke with Oprah Winfrey via satellite from a Killeen, Texas, hospital.

Todd, a former soldier who had not previously shot at anyone, said that as Hasan fired at him, he recalled an instructor telling him to "calm down, relax, breathe, shoot. And then … I kept shooting." Once Hasan fell, Todd kicked the gun away and handcuffed him, he said. Then he tended Hasan's wounds.

"I just thank God that he missed me," Todd told Winfrey. [LA replies: An unfortunate comment. Todd is standing there in the hospital room of Kimberly Munley who has been seriously wounded, and he thanks God that he wasn't shot. He's celebrating the fact that God was looking out for him, implying that God wasn't looking out for Munley. This is grist for the mill of Heather Mac Donald, whose chief objection to Christianity is that Christians thank God for all the good things that happen to them, while ignoring God's role in all the bad things, that, according to their presuppositions, God also allowed. My reply is that distinctions must be made. It's one thing for a person who has survived unscathed an event that would have been expected to injure or kill him to thank God; it's another thing for a person to say "thank God I wasn't hurt," when he's standing there with another person who was seriously hurt.]

Munley, 34, who served in the Army and is married to a soldier, has two daughters. The petite officer said she got the nickname "Mighty Mouse" in Wrightsville Beach, N.C., after preventing a suspect from taking a fellow police officer's weapon.

Being shot, she said, felt like "a muscle being torn out of my leg." Munley, who has undergone surgery, expects "a slow process to get back to my normal life, but I know that I can accomplish it."

"Things are getting better day by day," she said. "I'm just hoping that the rest of the officers and the injured and the families of the deceased are healing as well."
The stories in the
New York Post
and
USA Today
are incoherent mess and it was impossible to derive a clear view from them of what happened. But there was at least the strong suggestion that it was Todd who had brought down Hasan, not Munley, making the stories from last week appear to be feminist propaganda.
That's where my thoughts were last night. Then today the New York Times came out with this this astonishing piece, which comes right out and says that last week's Munley-centric heroic narrative was untrue.
November 12, 2009
At Fort Hood, Witness Credits Second Officer
By JAMES C. McKINLEY Jr.

KILLEEN, Tex.—Sgt. Kimberly D. Munley has been applauded as a hero across the nation for shooting down Maj. Nidal Malik Hasan during the bloody rampage at Fort Hood last week. The account of heroism, given by the authorities, attracted the attention of newspapers, the networks and television talk shows.

But the story of how the petite police officer and the accused gunman went down in an exchange of gunfire does not agree with the account of an eyewitness who had gone to the base's processing center, where the shooting occurred, to conduct business before being deployed.

The witness, who asked not to be identified, said Major Hasan wheeled on Sergeant Munley as she rounded the corner of a building and shot her, putting her on the ground. Then Major Hasan turned his back on her and started putting another magazine into his semiautomatic pistol. [LA replies: This is different from Fort Hood spokesman Chuck Medley's account in the USA Today article, that "Munley fired on Hasan twice" before Munley fired back. According to the Times Munley didn't fire at all.]

It was at that moment that Senior Sgt. Mark Todd, a veteran police officer, rounded another corner of the building, found Major Hasan fumbling with his weapon and shot him.

How the authorities came to issue the original version of the story, which made Sergeant Munley a national hero for several days and obscured Sergeant Todd's role, remains unclear. [LA replies: "remains unclear"? The reasons for the deliberate false construction of a feminist national heroine "remains unclear"? That's like saying that the reason why Hasan was allowed to remain in the Army "remain unclear," and that the reason Hasan committed mass murder against infidel soldiers "remains unclear." In liberal society, everything bad that happens as a result of liberalism always "remains unclear."] (Military officials also said for several hours after the shooting that Major Hasan had been killed, although he had survived.)

Six days after the deadly shooting rampage at a center where soldiers were preparing for deployment, the military has yet to put out a full account of what happened. [LA replies: that's because the U.S. Army is led by a bunch of left-wing bureaucrats.]

At a news conference outside the post on Wednesday, Lt. Col. John Rossi refused to take questions about who shot Major Hasan or why the initial reports said it had been Sergeant Munley rather than Sergeant Todd.

"These questions are specific to the investigation and I am not going to address that," Colonel Rossi said. [LA replies: Absurd. The question of who shot Hasan doesn't relate to Hasan's guilt or anything of that nature, and so there's no good reason to keep it from the public. It's just basic information about the event. But this Rossi is covering it up. Why? Because he doesn't want to get into the fact that the Fort Hood commandant, Lt. Gen. Robert Cone, told a false story last week presenting officer Munley as the sole person who encountered and brought down Hasan.]

Public affairs officials also declined to make Chuck Medley, the director of emergency services at the post, available for questions. It was Mr. Medley, who oversees the post's civilian police and fire departments, who gave the first account of how Sergeant Munley stopped the gunman. [LA replies: These sneaky people make me think, not of the U.S. Army, but of the Clinton White House.

On Tuesday night, Lt. Col. Lee Packnett, of the Army's Office of the Chief of Public Affairs at the Pentagon, declined to say whether it was Sergeant Todd who had shot Major Hasan. "It could have been, but the final outcome will be determined by the results of the ballistics tests."

In an interview on Wednesday, Sergeant Todd's wife, Lisa, said he had asked the Army to protect his identity in the immediate aftermath of the shootings. Her husband did not consider himself to be the real hero of the day, she said. "They were in this together," she said. [This is absurd. He was involved in a gun battle with a mass murderer, and he expected that his name and his role in the event would not be reported?]

Neither Sergeant Todd nor Sergeant Munley were made available by the military for this article, but on Wednesday on the "Oprah Winfrey Show," they offered their first public comments on the shooting. They did not give a detailed chronology of what happened, nor did they say who had fired and hit the suspect.

Both are members of the civilian police force at Fort Hood. [LA replies: This is confusing. It creates the impression that this U.S. Army base is like a municipality, with its own civilian police force. The Times gives clearer information in the caption of the photo of Todd that accompanies the Times article, identifying him as "Senior Sgt. Mark Todd, of the Killeen Police Department."] Sergeant Todd said on the talk show that he and Sergeant Munley had arrived at the Soldier Readiness Processing Center in separate squad vehicles about the same time.

Sergeant Todd acknowledged that he had played a major role in bringing the violence to an end. He said that he had fired at the suspect, kicked his weapon away and placed him in handcuffs. It was the first time in his 25 years in law enforcement and the military, Sergeant Todd said, that he had used his weapon.

"I just relied back on my training," Sergeant Todd said. "We're trained to shoot until there is no longer a threat. And once he was laying down on his back, his weapon just fell into his hand and I'm, like, 'O.K., now's the time to rush him and secure him.' "

The confusion over what happened and the quickness of the military to label someone a hero seemed reminiscent of the case of Pfc. Jessica Lynch in 2003, when the Army initially reported Private Lynch had been captured in Iraq after a Rambo-like performance in which she emptied her weapon and was wounded in battle. It was later learned she had been badly hurt in a vehicle accident during an ambush and was being well cared for by the Iraqis. [LA replies: Wow, the Times admits to the way the liberal media rush to invent a female hero.]

On Friday, the day after the Fort Hood shooting, Mr. Medley said Sergeant Munley had encountered Major Hasan, pistol in hand, chasing down a bleeding soldier. It was 1:27 p.m. She fired at him, he turned, they rushed at each other firing and both fell, Mr. Medley said.

"He turned and charged her rapidly firing, and she did what she was trained to do," Mr. Medley said that day. He added, "She is absolutely a hero."

Several hours later, at a late-night news conference on the post, Colonel Rossi expanded upon the story slightly in speaking to reporters. He said Sergeant Todd had arrived at the scene in the middle of the gunfight and had also fired his weapon.

The eyewitness, however, offered a different account. [LA replies: It may seem odd that the Times relies on one anonymous witness to get at the truth. But it's because the Army, and even Todd, won't say exactly what happened.] He said he was walking in a roadway between the main building, known as the Sportsdome, and five smaller buildings. Major Hasan was headed toward the main building, the witness said, when Sergeant Munley came around the corner of a smaller building. Major Hasan wheeled on her and shot her several times, the witness said. It was unclear whether she squeezed off a shot or not, but she fell over backward, disabled with wounds in her legs and one of her wrists, the witness said.

Major Hasan then turned his back on her and began to shove another magazine into his pistol. He did not appear wounded, the witness said. A few seconds later, Sergeant Todd came around another corner of the same building. He raised his weapon and fired several times at Major Hasan, who pitched over backward and stopped moving.

"He shot her, turned away from her and was reloading, when he was shot," said the witness, who was nearby.

On the Winfrey show, Sergeant Munley, 35, said the incident was confusing and chaotic. "There were many people outside pointing to where this individual was apparently located," she said. "When I got out of my vehicle and ran up the hill, that's when it started getting bad and we started encountering fire." [LA replies: if Munley did not fire any shots at all, which now appears to be possible, and if she was not the one who brought down Hasan, which now appears to be likely, why did she allow everyone to believe the opposite? It seems that everyone involved—the Army, Munley, and even Todd, with his absurd wish not to be mentioned, were operating in sync to create a female national hero as the only hero of this terrible event.]

Sergeant Todd, 42, is a native of California who spent most of his adult life as a military police officer in the Army. He left the military police after 25 years to join the civilian force at Fort Hood. [Again, that confusing description of a "civilian police force" at an Army base. Like most members of the military, he has moved around a lot, serving at four bases in the United States and two in Germany.

Ms. Todd said her husband did not seem upset in the wake of shooting Major Hasan.

"He say's he's O.K.," she said. "And I have to take him at his word."

Liz Robbins and Jonathan Miles contributed reporting from New York.

[end of Times article]
All of this raises an interesting question. The
Times
does not exactly have a history of emphasizing the heroic role of white men with guns. When a crazed gunman invaded the U.S. Capitol Building some years ago, the role of the Capitol police officer who stopped him in a one-on-one gun battle and died in the effort was downgraded by the
Times
almost to the point of invisibility. When male civilians with guns stop criminals, the Times usually downplays or ignores it. Why then was the
Times
so forthright in deconstructing the Munley-centric, female-as-hero narrative?
Could it be because Sergeant Mark Todd is black?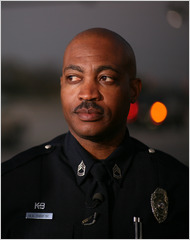 At the
Times
, no decision on how to play a story is made without considerations of diversity in mind.
- end of initial entry -
Dale F. writes:
"I just thank God that he missed me," Todd told Winfrey. [LA replies: An unfortunate comment. Todd is standing there in the hospital room of Kimberly Munley who has been seriously wounded, and he thanks God that he wasn't shot. He's celebrating the fact that God was looking out for him, implying that God wasn't looking out for Munley….]

Though we still don't have a clear narrative (not unusual even in less fraught crime scenes), it seems that Munley was down and Hasan unharmed when Todd arrived on the scene. We may surmise that if Todd had then also been hit and put out of action, Hasan might have murdered them both and and then gone on to murder many others. So I too thank God that Hasan missed and that Todd had a clear shot at Hasan.
LA replies:
Good point. If that's what he meant, I take back what I said.

We don't know that that's what he meant, though.
Jeff S. writes:
You can't think of ONE reason why Todd wouldn't want to become nationally known as the guy who shot a high-profile (about to be, anyway) Muslim Crazy? Not one? Really? Cause I can think of one. Self-preservation.
LA replies:
I didn't say it was absurd that he might personally have reasons for not wanting his identity to be known to the world. I said it was absurd for him to think that his identity wouldn't be known to the world.
Posted by Lawrence Auster at November 12, 2009 03:33 PM | Send