"That savage thing is one of the American Left's finest achievements"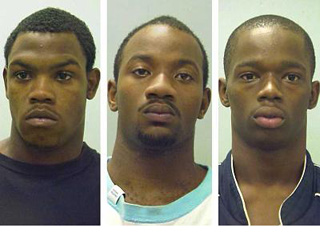 Fourth teenager arrested in Chicago beating death

CHICAGO (AP)—A fourth teenager has been charged with first-degree murder in the beating death of a Chicago student who was walking home from school.
And a
story and the video
from Fox Chicago:
Video: Teen Attacked, Beaten to Death in Melee
Updated: Tuesday, 29 Sep 2009, 12:28 PM CDT
By Darlene Hill, FOX Chicago News

This is the hard lesson some students at Fenger High School have to deal with after a day of learning. For them it's a hard lesson of reality on the streets.

Thursday after school, two rival gangs got into a fight three blocks from the high school.

In all four students were beaten in that melee—one was released from the hospital Friday morning.

While police continue their investigation, some students say they don't want to go back to Fenger next week.

Rival gang members have been fighting for a month—and each time one of their fellow classmates is injured.

No knives and no guns were used in Thursday's fight. Just fists, feet and boards.

Derrion Albert, 16, was struck in the head by one of those boards.

Seconds later the honor student hit the pavement. That's when witnesses, who are other high school students, say gangbangers began stomping on and punching Albert.

Derrion Albert's mom said witnesses told her he was "trying to help another student and kind of got mixed in with the crowd of the fight and he was hit."

A senior who witnessed the whole thing says the melee lasted less than five minutes.

The video shows students and workers from a nearby community center rescue the boy—but many out there knew it was too late.

Surveillance videos are mounted on businesses in the Roseland area, but Chicago Police say those don't show faces.

Police have a copy of this footage and it may help identify Albert's killers.

But while that investigation goes on, students say they will remember Derrion Albert as a good kid. A quiet, smart kid with no gang affiliation. But just a kid who may not have had enough street smarts to go another way.

If you can identify any of the people allegedly involved in the death of Derrion Albert, please call Area Two of the Chicago Police Dept. That number is 312-747-8272.
Irv P. writes:
Have you seen the video of the violence after school last Thursday in Chicago? If not, it's worth a look and of course, some comment.

I want to point out that this type of behavior is not out of character for a vast number of black teenagers. It has been going on for the last 40 years. Only when someone loses their life do we even hear about it.

I was on the front lines for 33 years, heading off this type of insanity. It exists in every overwhelmingly black school. I can tell story after story. The level of intelligence is staggeringly low. It's been permitted because as a society we have refused to face the truth, and tell the truth.

I explain the whole phenomenon with one word…appeasement.

When decisions are made in any sphere because of fear, they are always bad decisions; and they will always come back to "bite cha".
Rocco DiPippio writes:
Watch the video of their attack; listen to the laughter and grunts of amazement and entertainment from the others who watched it all go down. Sickening—disturbed me as much as watching an Al Qaeda beheading video. The video of the attack is the modern Black inner city "culture" in all its glory. That savage thing is one of the American Left's finest achievements.
James N. writes:
The level of denial on the part of American whites about the black "culture" that actually exists in most places, most of the time, is certainly extraordinary.

I wonder if there has EVER existed, in the history of the world, a popular delusion that was this durable.

Of course, the behavior of whites is much less delusional than their spoken opinions. The mass migration of whites away from cities, initially to suburbs but now to the intermountain West, northern New England, the Piedmont, and into gated (really fortress) communities in Florida and California would be one of the most remarkable population relocations in history, if we called it by its right name.

Whites will do almost anything to get away from black "culture," as long as they don't have to acknowledge what they are doing.
Posted by Lawrence Auster at September 29, 2009 04:22 PM | Send