"When did opposition become racism?"
Diana West
lays out
the left's dictatorial strategy of delegitimizing all opposition.
Also, at her blog, West has been following the increasingly insane situation in Afghanistan. You know what our present strategy is? "Win the hearts and minds of Muslims." Make friends with the locals. Transport food to them (and get blown up by roadside bombs and RPG attacks in the process). Eat meals with them. Hang out with them. But of course Muslims can never be friends with us, because their god tells them in their holy book, "You shall not be friends with the Christians and Jews." Yet this is the mad cause for which young brave strong American and British men are sacrificing their lives and limbs. Thus the neocons ("America is nothing but an idea"), the moderate left ("America is nothing but a social welfare service for the world"), and the radical left ("America is nothing, period") have all found common cause in Afghanistan.
See West's entries, UK Inquest: He Died Delivering Goat, on the death of Royal Marine Corp. Liam Elms, and News from Afghanistan, on the death of 23 year old U.S. Army Sgt. Tyler Juden of Kansas, who was killed on a mission to win Afghan hearts and minds which can never be won.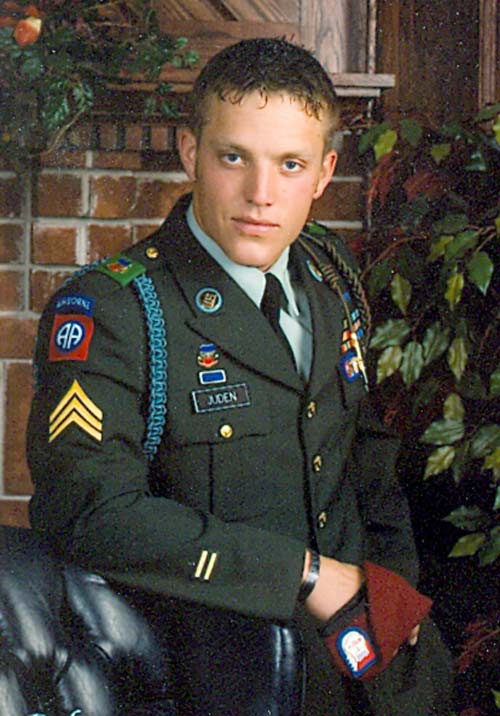 Sgt. Tyler Juden
Also see West's item,
Willful Blindness
, on significant errors and omissions n Florida's investigation in the case of teenager Rifqa Barry who says her father in Ohio threatens her life because of her conversion to Christianity.
Posted by Lawrence Auster at September 18, 2009 10:37 AM | Send