A fish that walks, a dog that talks, and a business that boasts of obeying immigration law
Now here's
something that suggests an advance of America to a new level. A reader
tells
Mark Krikorian that he stopped at a discount clothing store in San Antonio, Texas to buy a tie, and saw this: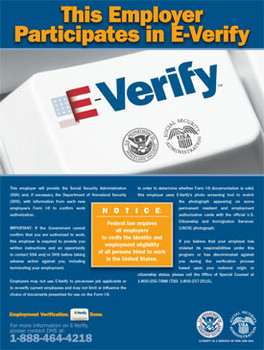 Derek C. writes:
The interesting aspect of the story about E-Verify is that it was in a discount clothing store in San Antonio, Texas. I have no doubt that store relies on Mexican-American customers. The lesson in this is that the GOP can oppose illegal immigration without permanently alienating these voters. They'll get over it. Moreover, a few will respect a show of testicular fortitude and join.
- end of initial entry -
Marco Jawsario writes:
As I have pointed out before, Hispanics admire strong-willed men and women, which is why they respect and identify with proud white Texans, as opposed to those spineless pathetically pitiful puny PC pukes of pallor in California.

I have lived in both states and the differences are profound. Hispanics in Texas tend to think of themselves as Texans, and 58% consider themselves white, while in California they are more likely to think of themselves as Mexicans or El Savadoran or Latinos, with only 42% of Hispanics considering themselves white.

The lesson to be learned—stop walking on eggshells, white people, and you will get respect.
Posted by Lawrence Auster at September 07, 2009 08:35 PM | Send