19 year old English actress who was murdered by her black boyfriend had lived with him for a year—guess where
Last November
, 19 year old British model Amy Barnes, who hung out with black football players, was stabbed to death. See VFR's
discussion
about the murder and about the photo Barnes posed for in which, wearing a glowing death's-head bra and an expression both innocent and naughty, she seemed to be invoking her own violent and tawdry end.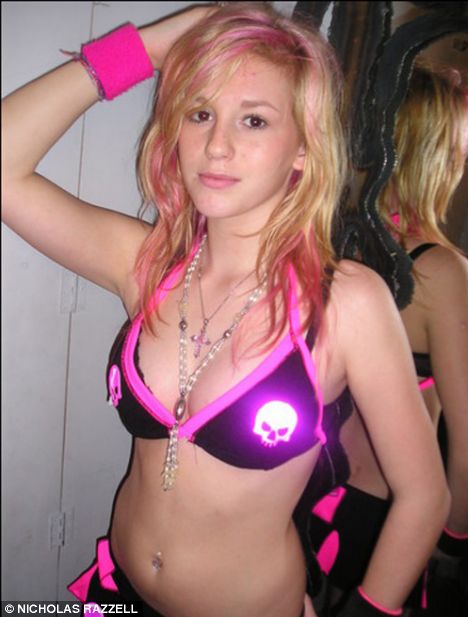 This week, her black boyfriend, Ricardo Morrison, 21, went on trial for Amy Barnes's murder. Morrison's co-defendant is his mother, Melda Wilks, 49, a policewoman, who is accused of assisting her son by washing his bloody clothes. Echoing Lady Macbeth, the policewoman told her son,
A little water clears you of this deed.
But Morrison's mother is not the only parental enabler in this all-too-typical murder story. As came out in the first day of trial, Amy had been living with Morrison for a year prior to her death, at her parents' home. Then shortly before the murder the couple moved into Amy's grandmother's home, which was where she was killed. Of course, the Mail makes nothing of the fact that Amy's parents allowed a man to live with their 18- and 19-year-old daughter in their home. And it makes even less of the fact that he is black. We only know that he is black from the photos accompanying the article. We're all just human beings don't you know, race doesn't matter, and anyone who says that it does is not worthy of living among decent people, while, of course, 20 year old boyfriends, whether white or black, are worthy of living with one's 18 year old daughter in one's house.
Here is text of the article from the Mail. There are many photos with the article.
I'm dying…my boyfriend stabbed me: Murder trial jury is told of model's desperate 999 call
By James Tozer
14th July 2009

A model made a desperate 999 call identifying her killer as she lay dying of knife wounds, a court was told.

Amy Leigh Barnes gasped: 'I'm dying—he's stabbed me to death,' a jury was told. When the operator asked who had stabbed her, she allegedly replied: 'My boyfriend.'

Miss Barnes, 19, was found lying in a pool of blood by her father shortly afterwards.

Amy's injuries included a 4in long slash across her face—a cut going from the right corner of the victim's mouth along her cheek.

She had been stabbed several times and had a 4in cut across her face. She died later that day.

Yesterday her boyfriend Ricardo Morrison, 21, went on trial accused of murder. Alongside him in the dock was his mother, Melda Wilks, 49, a policewoman who is accused of assisting her son by washing his clothes.

A model and actress, Miss Barnes had worked for Cosmopolitan and Nuts magazines and had also appeared in the Channel 4 soap Hollyoaks and reached the finals of Miss British Isles.

Friends included Blackburn Rovers' Premier League striker Benni McCarthy.

Morrison, a promising footballer, had worked as an assistant coach at the Brazilian Soccer School in Birmingham.

The couple had been together for about a year, living first at Miss Barnes's mother's house and then at her grandmother's terrace home in Farnworth, Manchester, the court heard.

But the relationship had 'serious problems', and in the early hours of November 8 last year, Miss Barnes sent Morrison a text message saying 'You are out of my life for good', Manchester Crown Court heard.

That morning, after her grandmother had left for work, Morrison allegedly attacked Miss Barnes at the house, punching her, spraying an aerosol in her face and then hurting her arm in a door.

He then left to go to the bank, locking the front door with the only key they had and taking it with him, trapping her inside.

Miss Barnes continued sending him text messages, in one calling him a 'woman-beater'. 'Upset and tearful', she called her mother, Karyn, who was very worried, the court heard.

It was arranged that her father would collect a house key from her grandmother, pick her up from the house and take her to her parents.

He set off, but Miss Barnes was dead by the time he arrived. The court heard after her flurry of texts to Morrison, Miss Barnes had rung the Vodafone phone firm at 11am and arranged for them to disconnect his mobile phone—which was listed in her name.

Stuart Driver QC, prosecuting, said this 'must have been frustrating' for Morrison.

Just after 11.30 am Miss Barnes again called her mother, then at 11.35 am came the desperate 999 call. The court heard she had five stab wounds to her chest and four to her back.

Mr Driver said that while Miss Barnes was in intensive care, her mother called Morrison's mother in Birmingham.

After an angry exchange, the court heard Wilks had texted Miss Barnes's mother: 'I know what my… (sic) has done is unforgivable—no need to be rude… My son will be dealt with by the law.'

The prosecutor added Wilks then sent a text to Morrison saying: 'Hi son. Please, please give me a call. I have had a very disturbing phone call from Amy's mum alleging that you caused her an injury and that you have been abusing her.'

Mr Driver said Wilks picked up Morrison when he arrived in Birmingham later that day.

He insisted he had not hurt Miss Barnes, and his mother took him home and washed his clothes, later saying this was because he didn't have a bag with him, it was claimed.

He was arrested at her home later that evening.

Morrison, of Birmingham, denies murder while Wilks denies assisting an offender.

The case continues.
- end of initial entry -
David B. writes:
The murder of English actress Amy Barnes has some similarity to the O.J. Simpson case in that the parents of Nicole Brown were enablers in their daughter's eventual murder.

Nicole Brown moved in with O.J. Simpson at age 18 when Simpson was still technically married to his first wife. Her parents had no objection. One reason is that Simpson gave them considerable financial help. Nicole's father managed a Hertz office through Simpson, who arranged a well-paying job for her mother as well.

After the January 1 1989 beating, Nicole wanted to divorce Simpson but her father demanded that she stay with him. When she did get a divorce in 1992, her parents didn't like it when Simpson stopped giving them money. Nicole then started dating Simpson again as she like O.J."s money herself. It went back and forth until Simpson murdered her.

During the trial, the prosecutors were amazed that Nicole's parents didn't seem that upset with their former son in law.
Gintas writes:
Mudshark: a white woman who only dates blacks;

See this for some "vibrant, colorful" definitions.
July 31
In a later entry, "The liberal lesson," Karen writes from England:
Her [Amy's] parents were interviewed on TV the other night and said that the girl had said that the savage was often aggressive and could be violent. The parents were asked what they did about this. Looking quite askance at being asked, as if it was really none of his business, the father replied that he told the girl "to hide in the wardrobe or bathroom" when the savage got angry. Wouldn't a responsible father have insisted that she return home and never see this black man again? No, he didn't want to interfere with her "freedom" and so he let her be killed.
Posted by Lawrence Auster at July 15, 2009 11:10 AM | Send