Jackson's Doctor Feel Good
The New
York Daily News
reports
:
Not long before Michael Jackson died under his doctor's watch, the pop icon insisted his personal physician become a 24-hour caretaker and accompany him on his wildly-anticipated London concert series, the Daily News learned yesterday.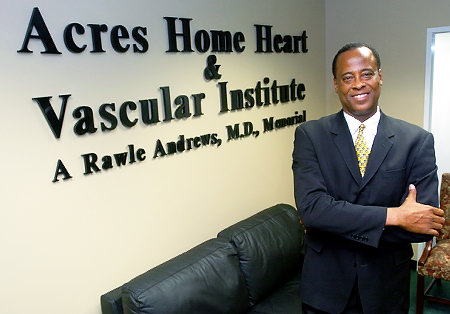 Dr. Conrad Murray in 2006 opens the Acres Homes Cardiovascular Center
at the Tidwell Professional Building, in Houston .
An L-dotter
reports
:
Dr. Murray comes from, and has an office, in Acres Homes in North Houston, Texas.

Anyone familiar with Acres Homes will surely know that this little piece of Hell on Earth is not the place a 'noted Cardiologist' hangs out his shingle.

Crime ridden and 99% minority neighborhood. Cops never go there alone.
Also, Murray is not a product of affirmative action:
he went to a historically black medical school
:
Conrad Murray went to medical school at Meharry Medical College School of Medicine and graduate in 1989. The Meharry Medical College is located in Tennessee and is "the largest private, historically black institution for educating health professionals and scientists in the United States."

- end of initial entry -

Harry Horse writes:

I was in residency at Emory, which was then still mostly merit-based. The majority of training is done at Grady hospital, in the black area of Atlanta, and is a 1000 bed public hospital. When you are admitted, you receive a "Grady Number" blue card—essentially an account number. However, if the last two digits are thirty or less, you are assigned a Morehouse (predominantly black medical school) physician rather than an Emory physician. These two residencies work side-by-side, but share none of the same teaching experience, as all of the attending physicians come from their respective "Mother Church." Nevertheless, informal interaction occurs. My evidence is thus anecdotal, but I must say that the average level of care, intelligence, and expertise are not even slightly comparable. A long-standing joke is that the tattoo parlors have a template for the population to get "I have an Emory number" tattooed to the chest, so in the event of catastrophic incapacitation, one is not found to be attended to by a group of quacks.

Indeed, even the indigenous population is quite aware of the difference in care, and many of my own patients in my weekly clinic (100 percent black patients) told me of the bureaucratic maneuvering they had to go through in order to get reassigned an "Emory Number." It seems that when it becomes a matter of live or death, even the most righteously black population (Grady is a couple of blocks away from MLK jr. Atlanta headquarters/church complex) chooses quality.

LA replies:

Harry's contrast between the two types of doctors reminds me of the vivid scene in A Farewell to Arms when Frederic Henry, badly wounded by an artillery shell while serving with the Italian army in World War I, is visited in the hospital by a doctor who is insecure and clearly does not know what he's doing and suggests some horrific and unpromising treatment. Henry asks the doctor if he could see another doctor to get a second opinion. The doctor reacts ungraciously, but gives him a references. When the second doctor arrives, he is crisp, confident, intelligent, witty, and knows exactly what he is doing. The two doctors personify Incompetence and Competence.

From: Jeff in England
Subject: I BARGAINED FOR MEDICATION AND HE GAVE ME A LETHAL DOSE

I have a question based on Dylan's song, SHOT OF LOVE, in light of the Jackson death, possibly at the hands of his black doctor.

Dylan sings:

DOCTOR, DOCTOR
I NEED A SHOT OF LOVE

Should that now be:

WHITE DOCTOR, WHITE DOCTOR ONLY
I NEED A SHOT OF LOVE

or:

NON-BLACK DOCTOR ONLY
I NEED A SHOT OF LOVE

or more to the point:

NON-AFFIRMATIVE ACTION DOCTOR ONLY
I NEED A SHOT OF LOVE

LA replies:

Jeff's very to-the-point (and, sorry, very funny) subject line comes from Bob Dylan's "Shelter from the Storm":

I bargained for salvation and they gave me a lethal dose.

Jeff's comment also relates back to his point that Jackson became the huge star he was because he gave love to his audience.

Jeff writes:

Rereading my Dylan related comments to Jackson's doctor, I have to add, given the seriousness of the subject matter:

a)That it may be that Jackson's doctor, who was black, was perfectly competent and his treatment of Jackson had nothing to do with Jackson's death. That remains to be seen.

b)There may very well be many high quality black, mixed race, non-white and even affirmative action doctors in the U.S.

I would also add obviously feel uncomfortable using an affirmative action doctor.


Posted by Lawrence Auster at June 27, 2009 10:30 AM | Send