Ed McMahon
I'm sorry
to hear that Ed McMahon
has passed away
.
If a secular thing can be timeless, then on The Tonight Show, Johnny Carson, Ed McMahon, and Doc Sevrenson created something timeless, an archetype of our popular culture. The ritualistically repeated yet ever-new and upbeat quality of the show's opening and of Carson's monologue lifted you out of mundane time into a secular equivalent of sacred time. (See Mircea Eliade's discussion of sacred time in Cosmos and History.) I never got tired of hearing McMahon's "Heeeeeere's Johnny!"
I loved these guys. When Carson retired in 1992, something good went out of America. It signified the end of the great American popular culture of the mid twentieth century and its replacement by post-modern loutishness and resentment.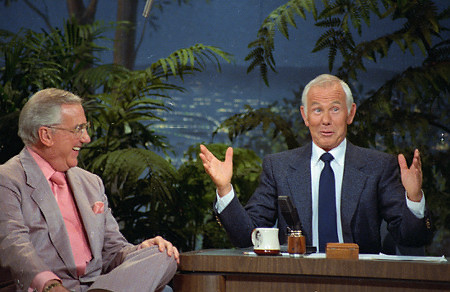 Carson and McMahon are still doing their act,
on that great Tonight Show in the sky
- end of initial entry -
Ray G. writes:
Very nice, tasteful little tribute to Ed McMahon (and Johnny Carson). I miss them too. Today, late night television is just trash and hyper-politicized commentary masquerading as comedy.

Feeling low about our country … that United States is all but gone. Literally ran into three Muslim women dressed in full, black burqas earlier today. Unbelievable. And observing others around us, I could tell because of liberal political correctness, no one even dared look at them with disapproval (the way I did).

None of this nonsense will end until we are a minority-majority country and the only way to prevent that is of course, to greatly reduce immigration and deport illegal immigrants. But it just ain't gonna happen.
June 24
Larry G. writes:
That was a classy tribute to a class act. This parody is a bit goofy, but you might enjoy it:
Posted by Lawrence Auster at June 23, 2009 02:26 PM | Send