David Frum's pride
Anyone who
thought that David Frum might have been embarrassed and humiliated by the fact that the cover photo for his
cover article
in
Newsweek
last month was a hyper closeup of Rush Limbaugh that portrayed him as your stereotypical angry, pig-eyed, McCarthy-like, right-wing bigot with a black box across his mouth saying "ENOUGH!", should take a look at Frum's
website
,
The
New Majority
. It features the disgraceful
Newsweek
cover on its main page.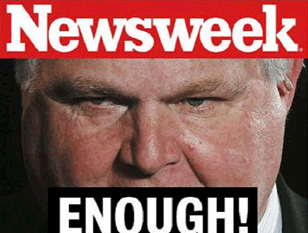 The Newsweek cover as reproduced at Frum's site
Frum, unbelievably, is
proud
of the fact that he, a prominent "conservative," joined with a leftist magazine to smear and seek to silence the best known conservative in America, and, through him, the conservative movement. All of which raises the question: what tendency, what principle, what
constituency
, does Frum see himself as representing and building into a "new majority"? Wealthy Canadian-American yuppies on the make?
- end of initial entry -
Kidist Paulos Asrat writes:
When I saw Frum's new website for the first time, what came to my mind was: New Democratic Party (NDP). That is the social democratic party of Canada, whose main color is orange. The NDP is even more to the left than the Liberal Party.

Frum has added blue to his website design, but the orange pops up more. He must be aware of the orange association with the NDP. No Red Tories for Frum, though.

Now, the NDP has added green as their secondary color, for obvious reasons. But when I went back to Frum's site, he does have green there too, for the date fonts!

Anyway, logo and color choices are always interesting to analyze. But, orange is a bold color to choose.
LA replies:
Interesting.

NDP is your compatriot Ken Hechtman's party.
Kidist replies:
Yes, I know. I don't know how he can follow the leader, Jack Layton, who has no charisma or even that much smarts, in my opinion.
LA replies:
A Canadian politician with charisma? It's impossible. Not when a politician's every moment is bureaucratically controlled by the need to say everything he says in two languages.
Kidist replies:
Yes, I realized this finally when the Stephen Harper, the Conservative Prime Minister, on one of his first visits out of Canada (it was to the U.S.), fell right into the two-language mode. He started in French. What was so surprising was that it looked like some kind of combative attempt at saying, "We are different." President Bush had a bemused, puzzled look on his face the whole time.
Posted by Lawrence Auster at April 16, 2009 05:51 PM | Send