Clockwork Orange in Carroll Gardens: WABC newsman stabbed 50 times by 16 year old male during sado-masochistic sex session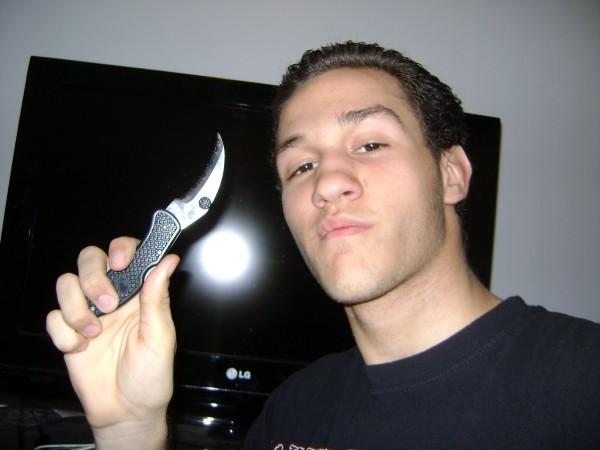 One of many photos of John Katehis with his knife collection at his MySpace page
In its
story
on the murder, the
New York Daily News
quotes a statement from slain newsman George Weber's family:
We are devastated by the loss of George—Jordy to us. He was truly a caring person who loved and was loved by all he met.

Jordy loved New York and its people, particularly his Carroll Gardens neighborhood. The outpouring of support by his friends and neighbors is a blessing to us and a testimony to his character.
The confessed killer advertised his nature at his MySpace page. See
photo
at
Newsday
, which also has a
gallery
of his photos. (The
Newsday
story has been updated with the account of how detectives arrested the suspect, John Katehis, with the help of his father.)
Roland D., who sent the item, writes:
Right, the "character" that leads this guy into engaging in gay S&M with an underage boy:

Yet another example of the supremacy of the cult of non-judgmentalism in modern America.

I really don't much care what takes place in private between consenting adults, as long as they don't do it in the street and frighten the horses, but non-ironic testaments to the "character" of a man who engages in this sort of behavior with a minor are simply beyond the pale.

No doubt these hagiographers are typical hand-wringing liberals who will justify almost any enormity of the state as long as it's "for the children," and yet they laud the "character" of a man who does such things with those selfsame children. The cognitive dissonance involved is simply breathtaking.
LA replies:
But "these hagiographers" whom you criticize are his family. He's just been horribly murdered, they didn't know about his sexual activities, they're speaking of the man they knew, of his good side. So, while the larger point you're making about nonjudgmentalism is correct, I don't think that eulogies from mourning family are the best evidence for it.

Other fond testaments to him from his colleagues in radio, including Curtis Sliwa, on whose show he used to be the news reader, are in this article in The Brooklyn Paper.

At the same time, is it right for family, friends, and co-workers to laud a man's character without acknowledging the wrongdoing that led to his death? It's a tricky question. I don't have an answer (for once). However, it seems to me that would be better if people said something like: "I'm shocked to learn that George engaged in such activities, and moreover that he did so with a minor, and that through such activities he put himself in a situation where he was murdered. However, I will remember the man I knew, who was a fine fellow, loving, etc." This way, there's the tribute to the person whom one knew, but it has some kind of moral framework.
Here is the
Daily News
article:
"Violent sex" ad led to murder of WABC newsman George Weber, confesses teen: Cops
BY Alison Gendar AND Corky Siemaszko
DAILY NEWS STAFF WRITERS March 25th 2009

An emotionally disturbed 16-year-old (above) confessed to the murder of WABC newsman George Weber (below).

The troubled teenager accused of stabbing WABC newsman George Weber during drug-fueled rough sex is a 16-year-old Satan-loving sadomasochist with a knife fetish.

John Katehis, who is just 16 and lives in East Elmhurst, Queens, posted pictures of himself on MySpace.com with various blades—including one he held against his neck. He also issued a chilling warning.

"If you disrespect me then I will f——g break your neck," he wrote.

On his site, Katehis called himself "Extremist, an Anarchist, a Sadomasochist" and said he enjoys "long conversations, drinking, bike riding, hanging out."

The teen also listed more sinister hobbies like "roof hopping, hanging off trains" and claimed be into extremely violent video games.

"I am a very easy person to talk to," he wrote. "I like to do crazy and wild things … I'm always looking for a big thrill."

Katehis was on the run in upstate Middletown, when cops picked him up just after midnight. He admitted answering an ad Weber placed on the Internet looking for a partner in rough sex, police and law enforcements sources said.

"He saw the victim's ad looking for violent sex and said, "I can smother somebody for $60," but it got out of hand," a source said.

The teen admitted he stabbed Weber, but couldn't remember how many times because he "blanked out" during the assault. He was in custody Wednesday at Brooklyn's 76th Precinct.

Cops found the suspect by combing through Weber's e-mail and Web browser history and tracking calls he made from his cell phone, sources said.

The two met in Brooklyn early Friday evening and then returned to the newsman's Carroll Gardens brownstone apartment under the premise of engaging in sadomasochistic acts, sources said.

Weber, 47, whose ankles were bound with duct tape, was stabbed repeatedly in a frenzied attack that sprayed the walls with blood.

The newsman fought back and wounded his assailant, whose blood was found in the bedroom and bathtub drain, the sources said. Cops believe Weber's killer tried to clean up before fleeing the Henry St. home.

Weber had been writing a neighborhood blog and was freelancing for ABC's national radio network after he was laid off from his job doing local news on WABC morning radio. His body was found Sunday morning.

"We are devastated by the loss of George—Jordy to us," the veteran newsman's family said in a statement Tuesday. "He was truly a caring person who loved and was loved by all he met.

"Jordy loved New York and its people, particularly his Carroll Gardens neighborhood. The outpouring of support by his friends and neighbors is a blessing to us and a testimony to his character."

A memorial service is in the works, but arrangements have not been finalized, the family said.

agendar@nydailynews.com With Jonathan Lemire
Posted by Lawrence Auster at March 25, 2009 04:03 PM | Send