Death penalty sought for black accused of murdering white co-ed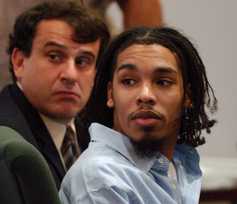 Demario Atwater
As reported
in today's
News & Observer
, District Attorney Jim Woodall of Orange County, North Carolina will
seek the death penalty
against Demario James Atwater in the murder of University of North Carolina at Chapel Hill student body president Eve Marie Carson this past March (
discussed
at VFR at the time). Below is the DA's account of the crime:
[DA Jim] Woodall said Monday that Atwater and [his accomplice] Lovette were on foot on Rosemary Street in Chapel Hill, looking to rob people when they walked down Carson's dead-end street, Friendly Lane, and saw her through two windows.

"Eve Carson was working on her computer in front of those windows that night," the prosecutor said.

Woodall said Atwater had told two different stories—one where he and alleged accomplice Laurence Lovette abducted Carson from her home and one where they pretended their car was disabled and asked her for help.

"The state believes she was probably abducted perhaps just outside her home," Woodall said.

Someone opened an e-mail on Carson's account around 3:35 p.m., Woodall said. Twenty minutes later, authorities say, Lovette used her ATM card at the Bank of America on Willow Drive in Chapel Hill.

Last month, a grand jury indicted Atwater and Laurence Lovette with more charges of armed robbery, first-degree kidnapping, felonious larceny and possession of stolen goods, in addition to Carson's murder.

Carson was shot four times with a hand gun and once in the head with a shotgun, Woodall said. The weapons had been discarded, but have since been recovered by law enforcement, Woodall said.
As the
News & Observer
points out, going for the death penalty is a tough decison for a DA, since it makes for a much longer and more expensive trial, and with a more doubtful outcome. The Kafkaesque procedural obstacles this country places in the path of capital punishment make it virtually the same as not having the death penalty at all. Indeed, we can fairly say that in America the death penalty is an
unprincipled exception
to the prevailing liberalism. Normally, the death penalty is not sought, even for very horrible murders. But, if a particular murder strikes people as having gone "too far," if it somehow bothers people in some indefinable way that they feel in their gut but can't define, and if there's a consensus in the community for it, then, again, not based on any moral or legal principle, but on feeling, the DA will seek the death penalty.
As an index of how rare it is,
Orange County has not sent anyone to death row since 1970; no offender from Orange County has been executed since 1948.
The Wikipedia
article
on the murder of Eve Marie Carson has a photo of her.

Posted by Lawrence Auster at August 12, 2008 12:02 AM | Send