Mob of black savages in Brooklyn beats three white men with bats when they try to rescue girl
This is
reported
in today's
New York Post
. The
Post
does not mention the race of the attackers, but since their behavior—mob swarming over victims kicking them repeatedly in the head or beating them repeatedly on the head with deadly weapons—is virtually exclusively black behavior, and happening regularly in cities throughout America, we can assume with 99.9 percent certainty that the perps are blacks. Further, as I've said before, if anyone thinks it is racist, i.e., immoral, of me to write the phrase "black savages," my reply is that this phenomenon
exists
. Predatory "wilding" by mobs of blacks aimed at disfiguring, rendering brain dead, or murdering the victim is a regularly recurring behavior. How can society protect itself from these savage crimes if it refuses to recognize their existence and their nature—as well as their motivation, which in many cases is racial hatred of whites? Those who refuse to name this reality are the ones doing something immoral. To name it plainly is the moral thing to do.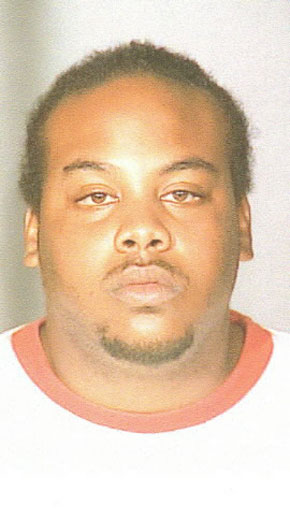 Timothy Dixon, who bashed Ivan Olenyev on the head with a metal baseball bat—
"pounding him senseless" so that he will require plastic surgery—when Ivan came to
help his brother Valentyn. Dixon's photo is in the online version of the Post's
Daily Police Blotter. There is no photo of him in the print version.
CONEY ISLAND MOB BEATS EX-MARINES RESCUING GIRL
By Philip Messing

A wolf pack of at least 30 thugs viciously attacked two hero ex-Marines in Brooklyn after they rescued a teenage girl who was being assaulted, police and witnesses said yesterday.

And when the brother of one of the former servicemen tried to come to his rescue during the July 25 melee in Coney Island, he was beaten into a coma.

The former leathernecks, Valentyn Olenyev, 23, and Boris Bukler, 22, Russian emigres who served tours in Iraq, were walking a female friend to her parked car on West 23rd Street at 12:30 a.m. when they spotted two men holding the screaming teen by her hands and legs.

"She was yelling, 'Help!' " said Olenyev. "I asked her, 'Do you need help?' She said, 'Yes!"

"It wasn't our intention to get into a fight," said Bukler. "We said, 'Let the girl go, and we'll leave.' We told them, 'Stop.'

"She was screaming, and all we did was look to help her. I got a bottle smashed over my head, and after that, I started fighting. But I got beat down.

"I was getting my ass kicked by 50 people."

Their friend called Olenyev's brother, Ivan, 22.

"When I showed up, there were a lot of people there, people on the left and people on the right, and then—'Boom!'—I got hit and passed out," Ivan told The Post from his hospital bed.

Police sources said he was pounded senseless by 240-pound Timothy Dixon, 23, who was swinging a metal baseball bat.

Ivan suffered multiple facial fractures and will require plastic surgery.

The NYPD is looking for Dixon, who remains at large.

The teenage girl fled after the melee.

The two former Marines, meanwhile, insist that the violence had racial overtones, although the assault has not been labeled a bias crime.

Bukler said, "Those in the crowd were yelling, 'Hey, white boys, you're in the 'hood now!' We were yelling back, 'We don't care—we live here!'
—end of initial entry—
I sent this e-mail to Philip Messing:
Mr. Messing:

Wasn't there obviously a racial component in this attack? The victims themselves say that there were "racial overtones." So why not tell us what racial overturns they were speaking of?

You get even closer to the truth with your reference to the attackers saying, "Hey, white boys, you're in the 'hood now!"' Since you are plainly indicating from their speech that these people are blacks, why be so chaste about using the word "black"? This was a gang of blacks attacking three whites. Why not say so? Can you provide a legitimate journalistic reason for keeping this salient information from the public—or, at best, only obliquely referencing it but not naming it clearly?

"Wilding" attacks in which a mob of blacks swarms over a victim hitting him repeatedly on the head with a deadly object causing grave injury or death is virtually exclusively a black crime. It's happens regularly. The public is in danger. In particular, white people are in danger from this type of racially motivated attack. How can the public protect itself if the specific group that is doing such attacks is not identified?

The key elements of a news story are Who, What, When, Where, Why, and How. What happened to the Who and the Why?

Lawrence Auster
New York City
Posted by Lawrence Auster at August 11, 2008 08:26 PM | Send